Tokyo
Tokyo, the capital of Japan, is a world-famous city that needs little introduction. However, there are some hidden secrets you may not be aware of. Tokyo is unique in that it is a city and a prefecture, so encompasses the buzzing downtown areas and the tranquility of the countryside. Whether you're searching for excitement, solitude, nature, parties, shopping or anything in between you can find it in Tokyo!
The importance of Tokyo, both in Japan and internationally, can be seen in many ways. For example, it is home to the world's busiest train station in Shinjuku Station. It is the seat of the Emperor of Japan, who still stands as a symbol for Japanese people everywhere. It has a huge economic footprint with a $2.5 trillion economy. If Tokyo were a country this would make it the 8th largest economy in the world. This is already an impressive feat and it's likely to grow even more in the coming years as various international events will be held here.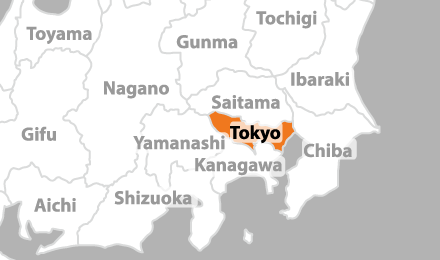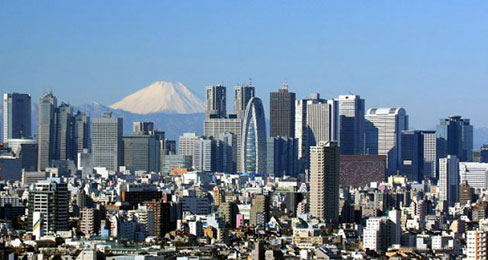 "Like many people, I came to Tokyo with the intention of enjoying the bright lights and excitement of this wonderful international city for one year. I had fun going out in Shibuya and Shinjuku at night, sightseeing in and around the Tokyo area on my days off, and meeting lots of interesting people along the way. I had originally planned to head back to Australia after this one-year experience, but I'm now into my fourth year and counting. I enjoyed my job at Nova so much that I decided to stay and I haven't looked back. Teaching at Nova reveals a side of yourself you may not know you have, and the relationship you build with your students forms the foundation for your success in teaching. When you enjoy what you do, everybody benefits, so I hope you can find what I have found here at Nova too!"
– Shane, Instructor Support Manager, Tokyo
Entertainment
You really have the world at your feet in Tokyo. Whatever tickles your fancy on any given day is likely to be no more than a short train ride away. For example, if you'd like to watch a movie in English (or Japanese) there are several movie theaters to choose from, none more interesting than Toho Cinema in Shinjuku. As you walk down the bustling street to reach the escalators you can see Godzilla glaring down at you from the top of the building. If you time it right, you may even see him fire his heat beam in a dazzling light and sound show.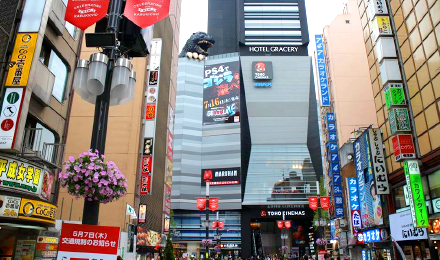 Looking for something more traditional? Try a kabuki show. It is a mixture of different art forms, which include acting, dancing and music, and has a more than 400-year history. If Japanese doesn't come easily to you, never fear. Many theatres offer an innovative portable monitor for rent with which you can follow the story.
Or if you just want to paint the town red, go no further than Shinjuku's Golden Gai. It is a famed district with narrow, winding alleys that house numerous snug taverns. You can feel the authenticity of these local bars so if you want to drink like a local, hit up Golden Gai.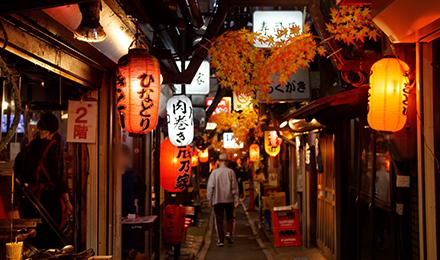 No visit to Tokyo is complete without a trip to the manmade island of Odaiba. This compact, yet open, island offers everything from shopping malls and arcades to car show rooms and eateries, and is home to the second largest Ferris wheel in Japan. You can get there by monorail, but you can also cross Rainbow Bridge on foot. Alternatively, many people enjoy travelling there by boat, with many ferries that travel between Asakusa and Odaiba, offering some stunning views and a glimpse of history, so these are not to be missed.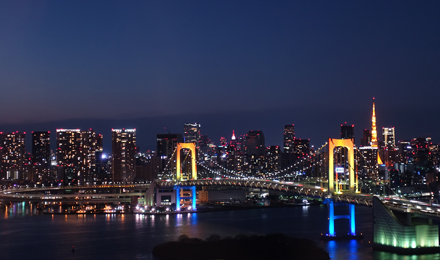 Whilst in Odaiba why not journey into the world of tomorrow! The Miraikan Emerging Science Museum features a peak into the future of robotics, space and beyond. Be sure to catch a live demonstration of Honda's Asamo. Then you can finish the day with a stroll down the promenade and enjoy the sunset with a picturesque city back drop.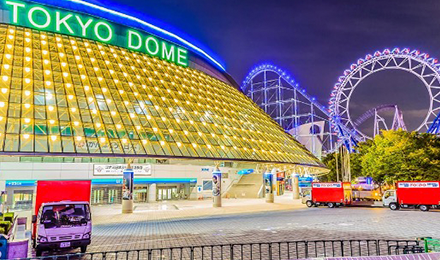 Tokyo Dome City
Outdoors
While Tokyo is more famous for its skyscrapers and concrete jungle than Mother Nature, never fear. You are never far away from a more natural adventure if you're living in Tokyo. Within the city itself are a bunch of parks and gardens, like Shinjuku Gyoen and the Imperial Palace Gardens. Many long-term visitors like to take a seasonal shot in parks and gardens near them to show the full range of seasons Tokyo offers. The same location can offer a photo op showing a vision of snow, gorgeous green grass, cherry blossoms in full bloom or falling leaves if taken at the right time of the year.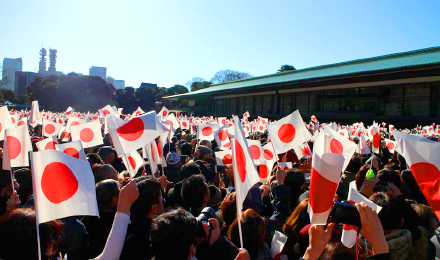 Inside the imperial Palace grounds on the emperor's birthday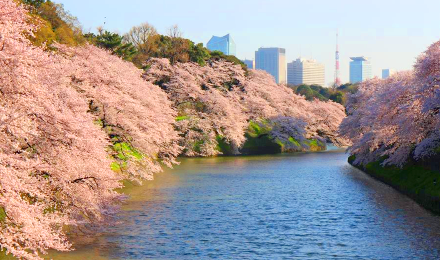 Cherry blossoms near Ichigaya station
If something more adventurous is up your alley, then why not take a day trip to one of the many beautiful spots within a train's ride away from Tokyo? Visit Hakone, with its stunning views of Mount Fuji, hikes through forests and around lakes, and the unique chance to try a black egg in an active volcanic valley, which some say grants long-lasting life! Another getaway spot is Kamakura, less than an hour from Tokyo, which gives beach lovers a chance to relax away from the hustle and bustle of the city. Not only that, Kamakura is rich in history and culture so after you've cooled off with a swim you can visit various temples, shrines, and statues in the peaceful coastal atmosphere.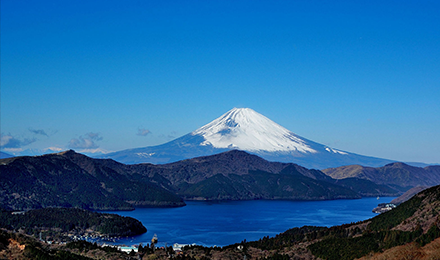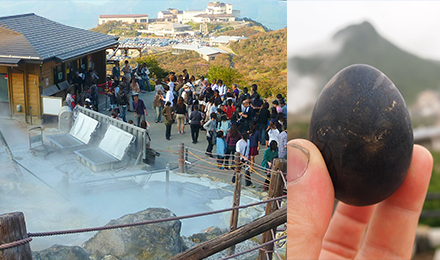 If you're looking to stay closer to Tokyo, visit the calming Meiji Jingu Shinto shrine, built to honor the spirit of Emperor Meiji and his wife. If you go on weekends, you may be in for a treat as it's also a hot spot for traditional Japanese-style weddings. Next to the shrine is Yoyogi Park, which is never lacking space to have a picnic, relax under a tree, or even play some sports.
If you are into hiking, Mount Takao is only 50 minutes from Shinjuku. This mountain stands at 599 meters tall and is a fairly leisurely hike. A word to the wise: be sure to stop at the many shrines and rest stops along the way to learn about the local significance of the mountain. Then finish the day with some traditional cuisine at the base of the mountain.
"You should check out Mount Takao. Go for the view, stay for the beer!"
– Darren, Hachioji Instructor
Travel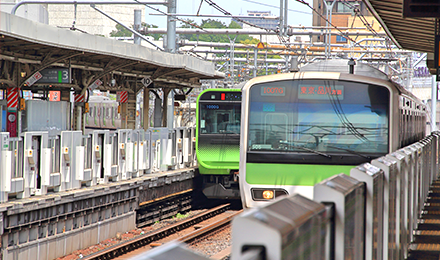 In terms of getting around, Tokyo has you covered. Tokyo is served by two international airports, Haneda and Narita. No matter where you're coming from you can arrive in Tokyo ready and raring to go. From there you can take a train, bus, or taxi to your next destination. If you're heading a little further out, you can take the world-famous bullet train from various stations across Tokyo. Or, if your adventure is taking you somewhere more local why not walk? Many famous areas are within walking distance of each other, such as Shibuya to Harajuku. If you've got a busy day planned ahead then renting a bike might be the best option for you as many of the parks and sightseeing areas have bike rentals for 2 hours for exploring and getting around in style.
Want to go on a tour? There are plenty of affordable coach services that will take you on both local and long-distance journeys. A Fuji day trip around the mountain and surrounding lakes is highly recommended. There are also incredible boat and ferry services for you to enjoy along the many rivers that cut through the city.
"When I have free time, I like going to temples and shrines, or taking day trips to beautiful areas like Kamakura. I'd also recommend paying a visit to Tokyo Skytree to get a bird's eye view of the splendor of the city. I can safely say Tokyo lives up to the hype!"
- John, Ikebukuro East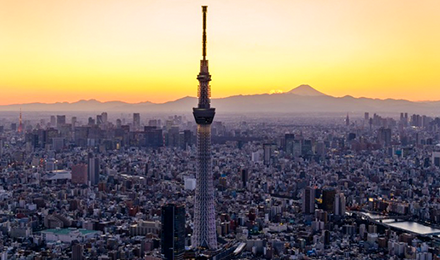 Shopping
Tokyo is a shopaholic's dream! Are you after cheap Japanese souvenirs to give to your friends and family? Go no further than Don Quixote! It has the largest selection of goods in Tokyo, including costumes, toys, snacks, and gadgets, so there's something for all tastes. If you're looking for something more traditional, head to the market stalls near Senso-ji temple. If it's Japanese and traditional you're after, you can find it around there!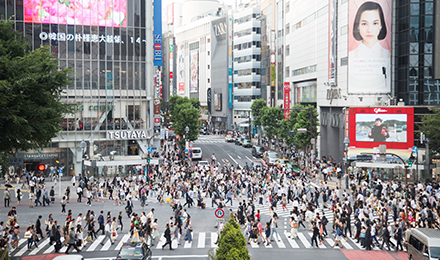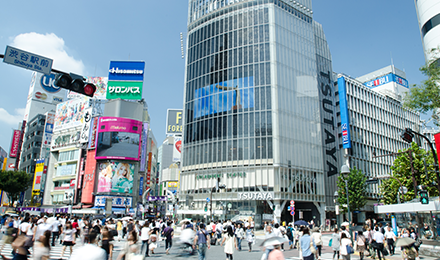 Shibuya Scramble
Looking for something more eclectic or trendy? Head over to Shimokitazawa and browse their numerous hip stores for those hidden gems. Want something bright and flashy to show off your zany side? Harajuku, the most fashionable shopping area in Tokyo, has a ton of trendy stores with the latest fashion in clothes and accessories. If all this sounds a bit too much then you can always shop at the more traditional department store style places, like Mitsukoshi, Seibu or Tobu.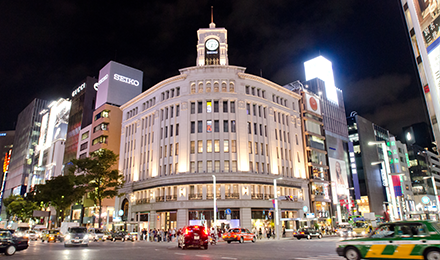 Ginza
If you simply can't live without brands, then Ginza has you covered. Get lost in streets upon streets of high-end designer shops from Gucci to Vivien Westwood. Be sure to visit the Ginza 6 building with its lavish shops, soothingly lit bookshop and many restaurants, making it a popular destination for shoppers. If you're not looking to break the bank, Ueno's Ameyoko market has you covered, with its street food and its countless stalls, you're sure to find what you're looking for.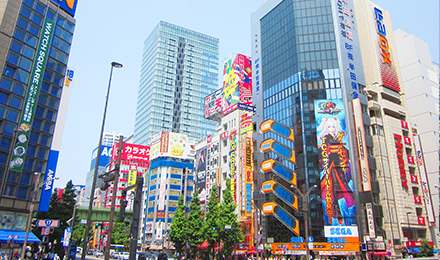 Akihabara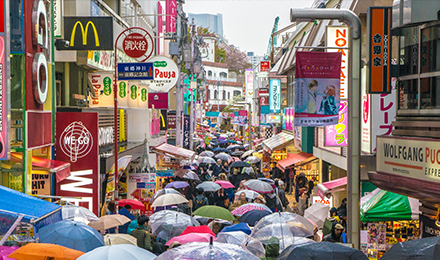 Harajuku
Culture
Art, history, science, Ueno Park has everything you need to whet your cultural appetite. With its many museums and its sprawling park, it's a great place to start your journey into the past. If you are looking for something more immersive, check out the Edo Museum in Ryogoku. This oddly shaped building, located behind the Sumo stadium, is dedicated to the Edo period (1603 – 1868) and allows visitors to learn about Tokyo's past. With its life-sized replica houses and its small-scale models, it gives a unique insight into the olden days in Tokyo.
Enjoy the modern culture too and sing the night away in a karaoke booth. Karaoke bars can be found all over Tokyo and with their big neon "カラオケ" signs, they are hard to miss.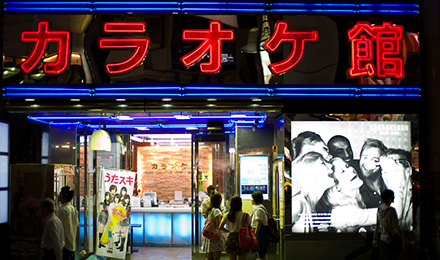 If you're into pop culture, be sure to visit the Mori building in Roppongi, as this gallery offers modern exhibitions from all over the world. If you're feeling adventurous, head to the roof of the building for arguably the best view of Tokyo.
"Every time I go around the city, I find lots of interesting and weird places. The city blends modernity and traditionalism perfectly."
- Paul, Komagome Instructor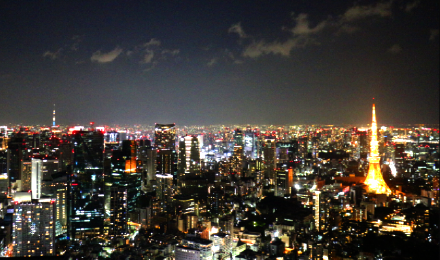 View from Roppongi hills
Need a hot drink? Immerse yourself in the age-old charm of a traditional tea ceremony. These tea houses, which are heavily influenced by Zen Buddhism, are a great way to relax and forget about the hustle and bustle of Tokyo. You can also try a hand at making the tea yourself.
If electronics, anime and video games are your thing Akihabara is your one stop location to catch up on all the latest trends. This vibrant town has everything from small retro boutiques, to large cutting-edge department stores. Whatever you're looking for, Akihabara is the place to find it!
Sports
Whether you're interested in playing or watching, Toyko has you covered. The most popular sport in these parts is perhaps baseball, with two major teams calling Tokyo home. They are the Yakult Swallows and the Yomiuri Giants and are owned by some of the biggest corporations in Japan. However, if you'd like to watch something more traditionally Japanese you should get a ticket to a sumo tournament at the Ryogoku Kokugikan arena. The tournaments are only held three times a year (in January, May, and September) so make sure to plan in advance. Soccer lovers needn't fear as the world game has a footprint here in Toyko too. You can witness the pinnacle of Japanese soccer by watching a J1 League match featuring FC Tokyo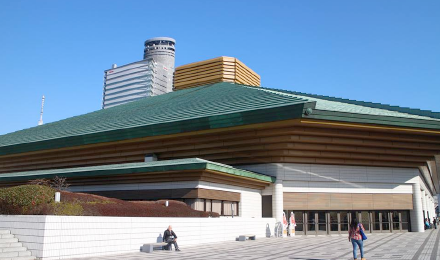 Ryogoku stadium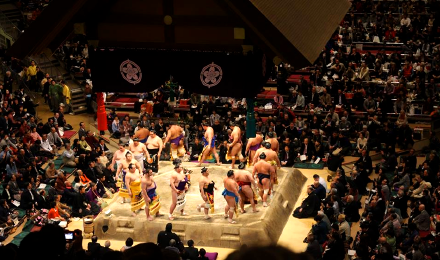 Of course, when talking about sports one can't forget the big event coming to Tokyo in 2020. The city will host the Summer Olympics and Paralympics, where the best of the best in athletics, swimming, team sports and more will compete for gold, representing countries from all over the world. To watch the Summer Olympics is often a once-in-a-lifetime opportunity, so now is the perfect time to make the move to Tokyo to be part of this magnificent event. As a spectator, volunteer, or even competitor, employment at Nova offers you the chance to be in the right place at the right time to be a part of the magic!
Festivals
Japan is a country steeped in history where everyone respects the past traditions through annual festivals. Tokyo is no different, despite being such an advanced, international city. From uber traditional and reserved, to exciting and energetic, to zany and out-there, a festival to suit everyone can be found somewhere in Tokyo. A particularly unique one that can be found only in some parts of Tokyo, such as around Meguro (on the busy Yamanote Line), is the 'water festival' held every year. A mikoshi, or 'miniature portable shrine', is hauled from neighborhood to neighborhood by the local people, with numerous stops for food and drink provided for free to all attending, before finally arriving at the local shrine or temple. Wondering how this counts as a 'water festival'? Well, this summer festival is special as it features local children splashing the mikoshi carriers with water all along the way. It's a fun-filled and family-friendly festival feeling!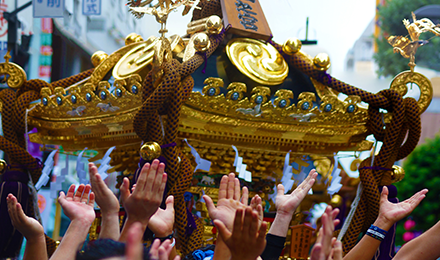 Water festival near Meguro featuring a mikoshi
"One of the things I love about living in Tokyo is attending festivals throughout the year. The traditional dancing, music and amazing atmosphere are like nothing I can experience in Australia and it's really amazing to become immersed in the excitement and buzz generated by the crowds and participants of the various festivals. In particular, I love the Awaodori festivals in Koenji and Kagurazaka each year."
– Callum, Hachioji Instructor
Summer is the time for celebration. Tokyo enjoys weekly fireworks displays during this season and none come bigger than the Sumida river fireworks display near Asakusa. This dazzling spectacle attracts over a million Tokyoites along the river banks of northern Tokyo every year. If you can't get a view of from Asakusa then why not try the water front at Toyosu? Who knows, you may even stumble across one of the many pop up stalls and party the night away at the sea front!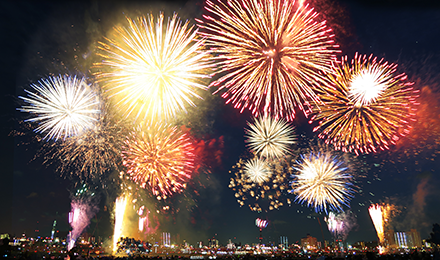 Food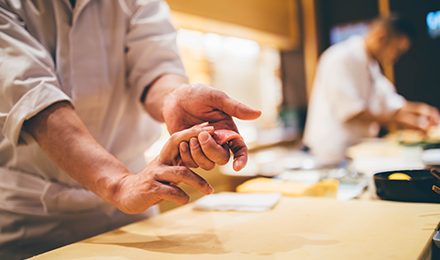 If you're looking for world-class food, you've come to the right city. For the best part of a decade,
For that Japanese taste Okonomiyaki is recommended as one of the most popular dishes in Japan. You can, of course, have it cooked for you by a professional, but where is the fun in that? Try it with friends and see who the best chef is! Looking for some light snacks or drinks? Then head to Ueno or Shinagawa for small locally-run izakayas or standing bars, and catch up with friends.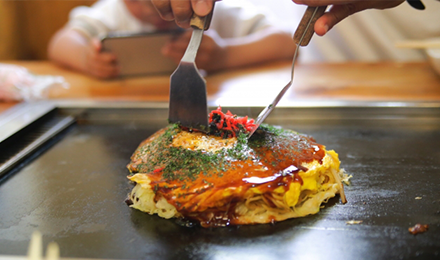 "Tokyo is great because it's a mixing pot of other places in Japan. I love being able to eat Kanazawa curry here."
- Robert, Ikebukuro West Instructor