Responsibilities
Instructor responsibilities include, but are not limited to, the following:
Selecting, planning and conducting lessons.


Monitoring student performance and reporting on student progress.


Performing demonstration lessons and level assessments for new or potential students.


Promoting available products and services.


Maintaining a clean, comfortable and welcoming environment.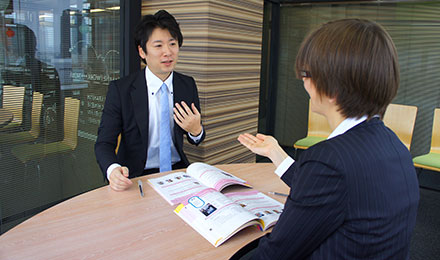 A typical day
No two days are exactly the same, and each shift brings a different mix of lessons and students. A typical lesson schedule will be made up of regular adult conversation lessons (group and one-on-one), and possibly one or more NOVA Bilingual Kids lessons (group and one-on-one) and/or one or more Voice lessons (designated days and times only).
Each lesson is forty minutes long, with a ten minute interval between classes. The interval includes time for record-keeping, lesson selection, a short break and a chance to interact with students and visitors in a more informal context. Many branches include a lounge where students can relax and chat with instructors and other students before and after their lessons.
Following the successful completion of additional training, a lesson schedule may also include test preparation lessons for students taking tests such as TOEIC, TOEFL and Eiken, as well as special lessons focusing on specific language skills such as grammar or vocabulary and specific purposes, such as Business or Travel.
Example schedule
13:20 Level 5 Group lesson
14:10 Level 8 Man to Man lesson
15:00 Level 6 Group lesson
15:50 Kinder NOVA Bilingual Kids Group lesson
16:40 BREAK
17:30 BREAK
18:20 New course training
19:30 Level 7 Group lesson
20:00 Business lesson
20:50 Business lesson
NOVA lessons
When students first start studying at NOVA, they take a communicative ability test with a qualified instructor. The result determines their starting level. There is a set of four purpose-written textbooks for each level and each textbook contains fifty self-contained units designed to equip the student with the necessary skills for the next level. There is a step-by-step teaching guide for each level provided for instructor support.
All student records are kept in an electronic file system accessible through the school PCs. Lesson selection is a simple process of accessing the electronic files for the students in your class and comparing their past lesson records to find a suitable choice.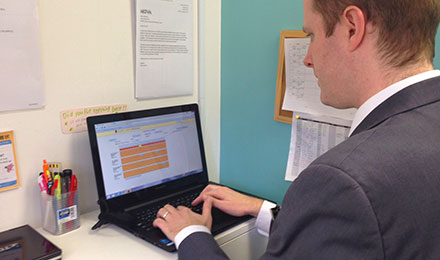 For regular group and one-on-one lessons, as well as most special lessons and courses, students enrolled in flexible booking study plans can book lessons online, by telephone, or in person, from up to seventeen days ahead until just minutes before the lesson starts. Schedules permitting, they can study whenever they like and wherever they like. It is not uncommon for the students to be meeting each other and the instructor for the first time at the beginning of the lesson. Hence it is always the instructor's first priority to put everyone at ease with each other by setting up a simple communicative warm-up task connected to the lesson theme. This then progresses to the introduction of the key language, followed by pronunciation and listening practice.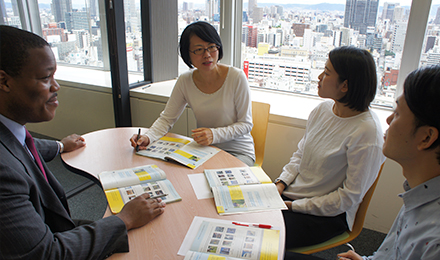 As the lesson progresses, the students gain confidence in their own communicative ability and quickly begin to use the target language independently. This is then brought to bear in the application stage in the final section of the lesson, where the students use the language in a real life situation while the instructor observes the students and evaluates their performance. The aim of the lesson is to give the students the tools and the confidence to communicate and achieve the lesson goals independently.
The standard lesson format, common to all levels, ensures consistency, balance and a supported progression through the lesson stages. It allows new instructors to quickly become proficient in teaching a wide variety of students and ability ranges. The lesson format provides both a framework and the freedom to adapt and tailor lesson content to individual and group needs. It allows new instructors additional support as they learn how to make their lessons more adaptive and responsive.
NOVA Bilingual Kids
NOVA Bilingual Kids students are aged between 3 and 15 and are divided into six levels of ability and study in classes of up to eight students. Classes are always fun with a strong focus on physical as well as verbal response, songs, chants and games. Lesson content and aims are based not only on correct and natural production of the language but also on helping students become confident and pro-active speakers of English.
Every level has a set of full-color textbooks with accompanying CDs, and all levels except the lowest have integrated workbooks. Lesson overviews, flashcards and other supplementary materials are also provided.
Once every 6 months, students have the opportunity to join the level-up contest: a fun, interactive test which, if they pass, will allow them to proceed to the next level.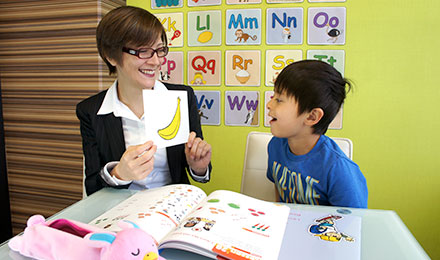 Schedules
Contracts may be offered for any number of lessons a week, up to 40, visa status permitting. For an instructor contracted to teach 37 lessons a week, a typical schedule will consist of four 8-lesson (including a meal break) shifts and one 5-lesson (no meal break) shift. The shift times and schedules that we can offer are dictated by customer demand. Demand peaks on weekends and on weekday evenings. Although larger branches also offer lessons in the mornings on weekdays, most branches offer lessons from around midday during the week, with shift start and finish times typically falling somewhere between 12:30pm and 9:30pm. On weekends and national holidays, demand is higher earlier in the day and as a result shifts typically start and finish somewhere between 10:00am and 6:30pm.
Sample 37-lesson-a-week contract schedule
Sunday: 10:00 to 17:20
Monday: 13:20 to 21:30
Tuesday: 13:20 to 21:30
Wednesday: Off
Thursday: Off
Friday: 17:30 to 21:30
Saturday: 10:00 to 17:20
Transportation Costs
Japan has an extensive and convenient public transportation system. For instructors using public transportation to commute to and from work, commuting costs are reimbursed.