Gifu, Aichi, Mie
The Tokai region is located in the very center of Japan. It has a population of approximately 17 million people and a size of roughly 40,000 sq.km. Mountains are extremely close with the three ranges of the Japanese Alps (Northern, Central and Southern) all running through Nagano prefecture, making for some of the best skiing in Japan and spanning into Gifu or Shizuoka, peaking at the world famous Mt. Fuji in Shizuoka prefecture. It is well-known that Tokai is one of the hottest and most humid places during summer but rivers such as the Nagara are the perfect place for cooling down with BBQs, swimming and rafting.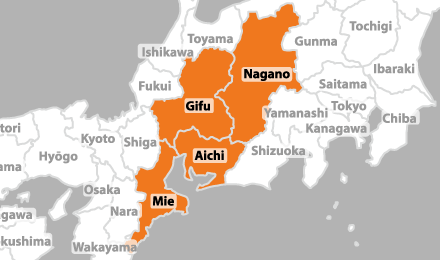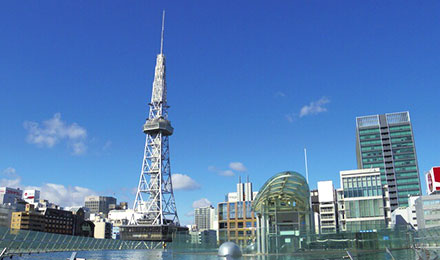 "I recommend Tokai because it provides a perfect balance of the big city life and nature.
The location is also very convenient as it provides easy access to all corners of the area and outside areas." - Kwaku, Tokai Instructor Support Manager
Entertainment
Nagoya comes alive at night, with a variety of music acts to see. There are dance clubs that attract large international crowds spinning all sorts of genres. The world famous Blue Note also has a franchise in Nagoya where you can sit back and relax to the sounds of jazz. Or go with something more modern, the underground music scene at one of the many clubs or a national act at the Nagoya Dome.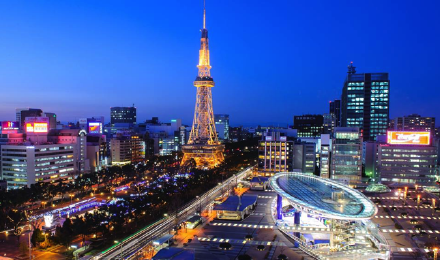 "If I had to choose where to live in Japan again, I would still choose Nagoya! There is so much to see and do, and it is easy to make friends here."
– Sam, Nagoya instructor
Outdoors
Make learning fun at the Gifu Science Museum, which is home to many hands-on exhibitions. Or gaze at the heavens from the Nagoya Science Museum's planetarium, which is one of the world's largest.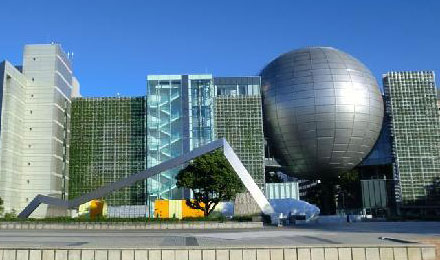 Gifu prefecture is the perfect place for those who love mountains and beautiful natural settings. From beautiful waterfalls, amazing hiking trails and challenging biking trails, Gifu is a place for people who love outdoors. Famous Mountains such as Mt. Ontake, the beautiful Oyada Maple Valley and the Yoro Waterfall and nearby Yoro Park area, Gifu has enough outdoor activities to keep even the most avid outdoors person busy for a while.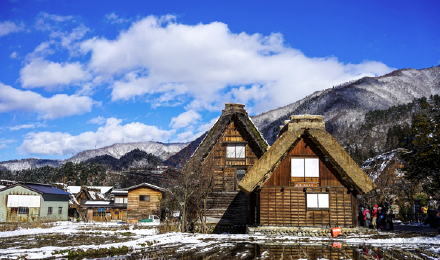 "Nagoya is a great place for anyone looking to enjoy the great outdoors of Japan. With easy access to the ocean, rivers, mountains, and skiing there's plenty of things for outdoor enthusiasts to explore."
– Nate, Tokai Instructor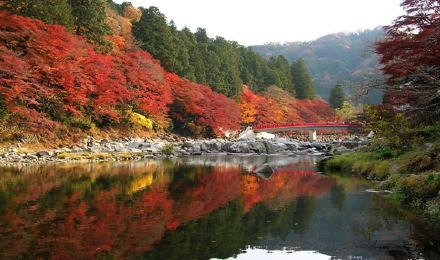 "The Chubu (central) region of Japan hosts an impressive array of landscapes, each containing hidden gems off the beaten tourist path. I've come to prefer these "unknown parts" over fighting the crowds elsewhere. I can be walking along the historic "Pottery Footpath" in Tokoname, exploring the nearby "Art Island" by bike, or even hiking to a serene waterfall in Yōrō."
– Steve, Tokai Instructor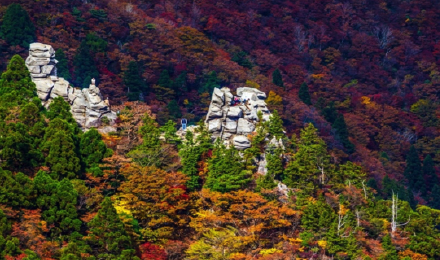 Shopping
If shopping sprees are more your cup of tea, then Sakae and other areas have you covered. The geeks among you for example will find plenty of arcades and anime-culture/manga-culture stores around Osu.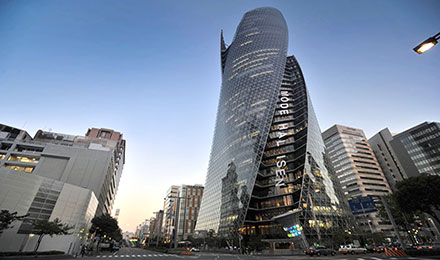 History / Culture
Dating back hundreds of years Nagoya Castle is one of the greatest castles of Japan and a must see for anyone in the area. Quite famous for its golden dolphin statues, (which you can get your picture taken with,) the castle is centrally located and one of the oldest landmarks in Nagoya.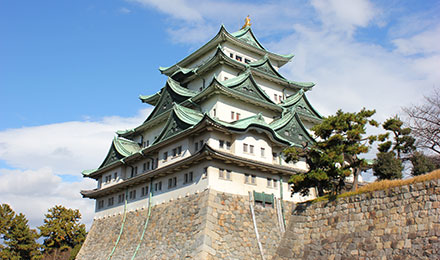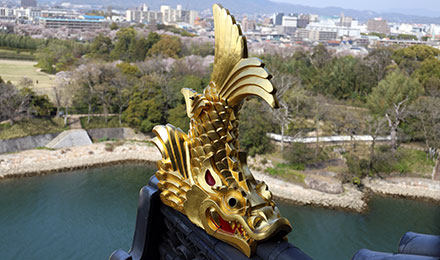 Gifu Castle is a tourist hotspot for students of history, as it houses various exhibits from the Edo period and just around the corner there is a public tea ceremony house in Gifu Park where you can also see Gifu's great Buddha statue.
As you stroll along the Nagara River in Gifu, you can have a chance to view ukai, or nighttime cormorant fishing, a 1300 year tradition that has been discontinued everywhere else in Japan.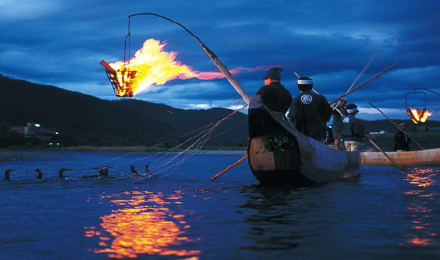 "The historical prefecture of Aichi, where many samurai battled in wars past, today has a variety of activities to keep anyone busy. Aichi has famous historical sites such as Nagoya Castle, Atsuta Jingu and Inuyama Castle, which everyone must visit at least once."
- Luke, Tokai Instructor
Sports
Sports abound in the area. There's Toyota Verblitz (rugby) and Nagoya Grampus (soccer) teams – both very competitive in the top tiers of their respective codes - as well as the Nihon Professional Baseball League's Chunichi Dragons.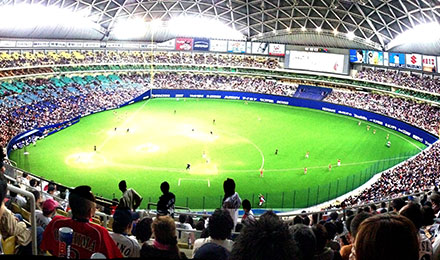 If you prefer something more traditional, every summer the Aichi Prefectural Gymnasium hosts the summer sumo tournament. Tournaments are held every year, each one lasting 15 days. Three tournaments are held in Tokyo (January, May, September), and one each in Osaka (March), Nagoya (July) and Fukuoka (November).
Festivals
Enjoy the annual fireworks festivals.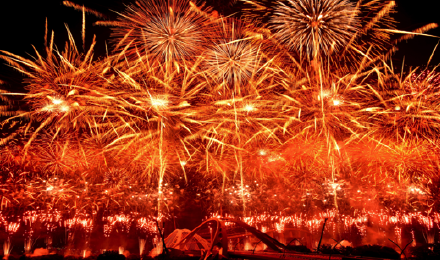 With an average of almost three festivals a month, the Atsuta shrine in Nagoya always has an event going on. On the ground you can also find a treasure hall and it's the home of Kusanagi no mitsurugi or sacred sword of Japan. Enjoy a nice bowl of Kishimen at the shrine's restaurant while you take in the halcyon atmosphere.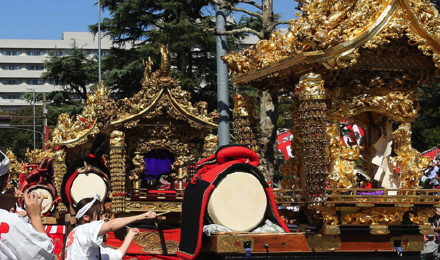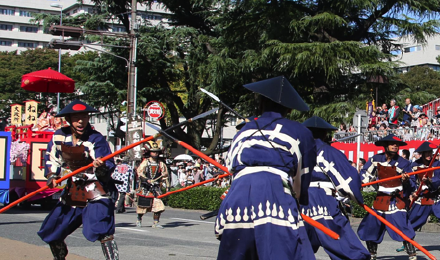 Food
Consider yourself an adventurous eater? Why not try some of the delicious eel from Lake Hamana? Those looking for something a little more familiar can try the delicious miso katsu (fried pork cutlet) or tebasaki (fried chicken wings) found in Nagoya. Or how about some of the best seafood in Mie!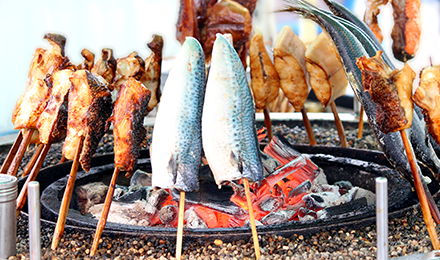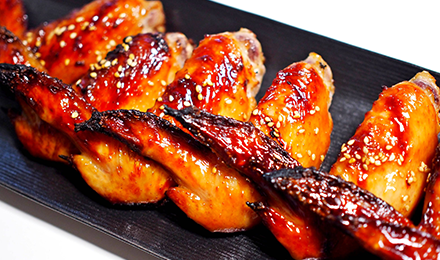 "Nagoya is a great area for food. There are so many restaurants and stalls to find delicious food from. Regardless of your appetite, there's always something that will appeal to you. Whether it's seafood, meat, or vegetables that you're into, Nagoya and its surrounding areas have something to offer."
– David, Tokai Instructor
Travel
Nagoya makes an excellent base to call home, serving as a central hub, connecting eastern and western Japan. It offers you the best opportunity to make the most of the Shinkansen (Japan's bullet train). Almost any major city in Japan can be reached in around three hours or less. Want to spend a weekend in Kyoto, Osaka or Tokyo? No problem!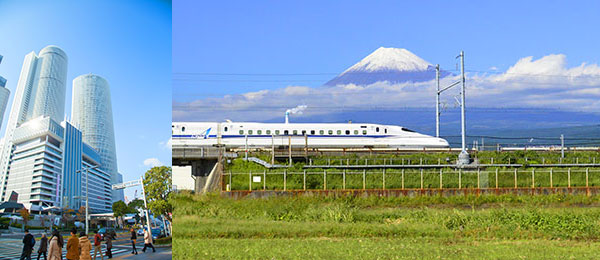 "The people are amazing and want you to come here and live here. They say 'Konnichiwa' to everyone they meet, especially if you say it to them first. If you haven't experienced Gifu you can't say you know Japan!"
- Debbie, Gifu instructor