Tohoku: Miyagi, Yamagata, Fukushima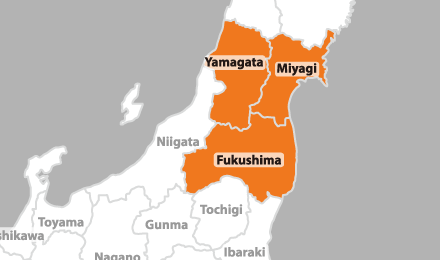 The prefectures of Miyagi, Yamagata, and Fukushima make up the southern part of the Tohoku region of Japan. The region is renowned for its scenic beauty and is traditionally considered the granary of Japan because it provides rice and other farming commodities to the rest of the country.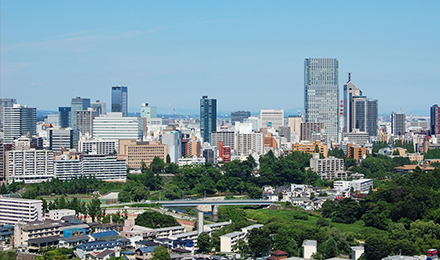 Sendai city
Miyagi is home to the region's largest city, Sendai and is famous for Matsushima, one of the three most celebrated scenic sights in Japan.
"Tohoku is the great place to live and work in Japan if you like a mix of city life and the great outdoors. There are lots of festivals going on year-round and it is easy to get out of the city and enjoy the natural beauty of the countryside. A lot of our instructors and Japanese staff take advantage of the great slopes in the area to go skiing or snowboarding in winter or enjoy spending a relaxing day at one of the many hot springs year-round. The cost of living is much cheaper than other parts of Japan and the fresh food of the region is always delicious year-round."

- Jeffrey, Instructor Support Manager
Yamagata is home to Dewa Sanzan, the three sacred mountains of Mount Haguro, Mount Gassan, and Mount Yudono. Holy to the Japanese Shinto religion, they are a popular pilgrimage site. Mount Haguro's Five-storied Pagoda is recognized as a national treasure.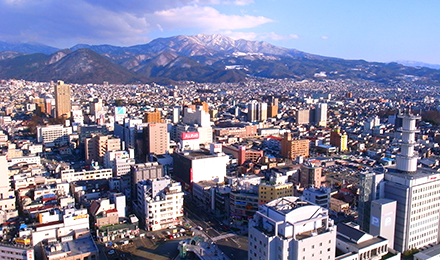 Yamagata city
Fukushima is known as a Fruit Kingdom because of its many seasonal fruits. While peaches are the prefectures most famous fruit, the prefecture is also known for cherries, Japanese pears (known as nashi), grapes, persimmons, and apples.
Miyagi is a very convienient and easy place to live and work! The weather, the people, and the location are great!! Especially for travelling or day trips on your free days!

- Nick, Sendai Instructor
Outdoor Activities
If you love to go hiking or trekking, then southern Tohoku is the ideal place for you. Whether it's hiking around the Goshikinuma Lake, a set of five strikingly colored lakes, in Fukushima, heading out to Okama Crater in Miyagi and enjoying the view of the unusual and strikingly hued natural formation of the crater, or taking the pilgrimage to Dewa Sanzan in Yamagata, you can't go wrong.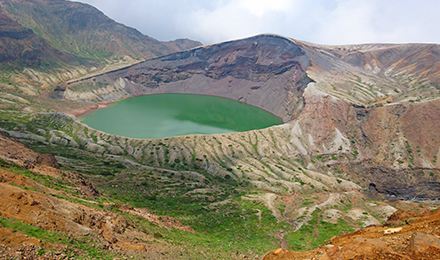 I love Fukushima because of the beautiful scenery that reminds me of Canada, and the delicious restaurants in the countryside with great views of the nature.

- Brandan, Koriyama Instructor
If it's the slopes you like, then take advantage of the fresh powder of any one of great ski resorts in the region. Among the best are Yamagata Zao Onsen Ski Resort, Inawashiro Ski Resort in Fukushima, or Spring Valley Izumi Kogen Ski Resort in Miyagi.
Any time of the year you can take advantage of one of the many hot springs in the region for a relaxing getaway for the day. Ginzan Onsen in Yamagata, Akiu Onsen, Naruko Onsen and Minamisanriku Onsen in Miyagi or Takayu Onsen in Fukushima are always popular spots.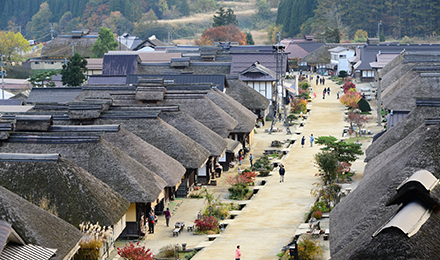 From the majestic snow-covered mountaintops of winter to a pink sea of swirling cherry blossom petals dancing in the spring breeze, Fukushima has magical wonders throughout every season to take your breath away.Soaking in the summer's golden sun, which spills its warmth onto the rippling waves of Lake Inawashiro at dusk and fills the blue water with gold, orange and fiery hues, is truly a Zen moment.As fall paints the leaves with all the colors of a setting sun, it ignites the forests like a smokeless blaze, engulfing those who witness its transformation with awe.

- Bela, Fukushima Instructor
Food
Tohoku is famous for its fresh food. Whether it is fresh seafood from the coast or fresh fruits from the many orchards in the region, each Prefecture in the region has its own local dishes waiting to be discovered.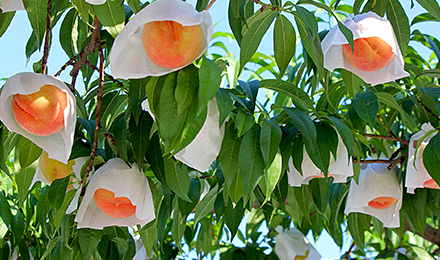 The beef tongue from Sendai is famous throughout Japan and is a must-try. There are over a hundred restaurants in the city that specialize in it. As well, you should try the Zundamochi, a dish of mochi with a paste of crushed young soy beans (edamame) and sugar called "zunda", or zunda shakes made by mixing zunda into a vanilla milkshake.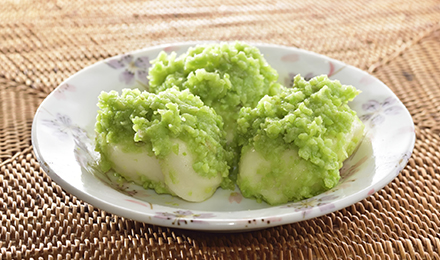 In Yamagata, you need to try the Yonezawa beef, which rivals the beef from Kobe and Matsusaka. It is known for being finely marbled and for its high-quality fat. Yamagata is also famous for its fresh cherries and peaches.
In Fukushima, you must travel to Kitakata for the ramen. It has soy sauce flavor to it and pork bone and small dried fish is used to make the broth. A lot of the locals go to their favorite shop to have their "morning ra" as the locals say.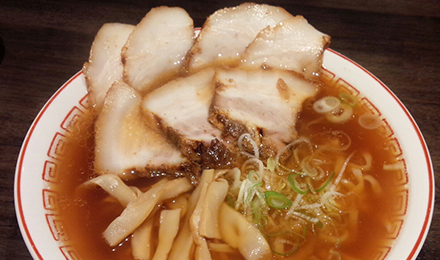 I like the Tohoku area because it offers some of the best sights, flavors, and things to do in Japan all year round: whether it be enjoying the traditional festivals in summer, marveling at the autumn foliage from an onsen, skiing in winter, or gathering with friends when the cherry blossoms bloom in the spring.

- Robert, Koriyama Instructor
Festivals
There are festivals held throughout the year all over Japan, and Tohoku is no exception.
In Fukushima, you will find Waraji Matsuri, also known as the Straw Sandal Festival. This is a curious festival where a 12-meter long traditional Japanese sandal (Waraji) is paraded to pray for strong legs for a good walk.
Hanagasa Matsuri runs for three days in August in Yamagata. Known as the Flower Hat Festival, thousands of local people dance through the streets of Yamagata all wearing conical hats beautified with artificial Safflowers.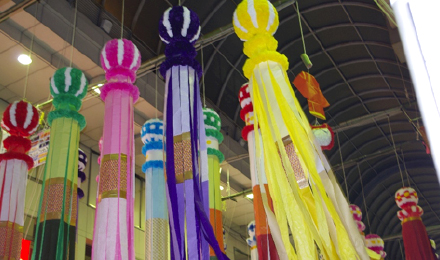 Many Tanabata (Star) Festivals are held across Japan, but Sendai's Tanabata festival is by far the best. During the three-day celebration, the streets and shopping arcades are lined with elegant decorations made of paper and bamboo.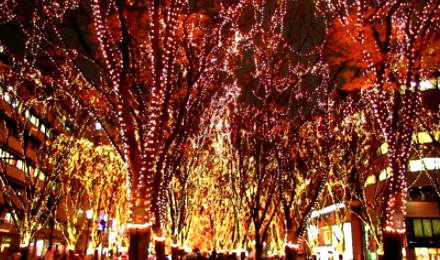 The city started planting keyaki trees as part of its reconstruction efforts after World War II. Having developed into the city's symbol, the trees are illuminated in December during the Sendai Pageant of Starlights.

- Rey, Sendai Instructor
Sports
Japan has three professional sports leagues, NPB – Nippon Professional Baseball, the J-League for soccer, and B-League for basketball.
If you are a fan of going to live sporting events, you can go watch the Tohoku Rakuten Golden Eagles play baseball at Kobo Park Miyagi in Sendai, Vegalta Sendai play soccer at Yurtec Stadium in Sendai or Montedio Yamagata play soccer at Fukushima United FC play soccer at Fukushima Azuma Stadium in Fukushima, or watch the Sendai 89ers, Fukushima Firebonds, or Passlab Yamagata Wyverns play basketball in the second division of B-League.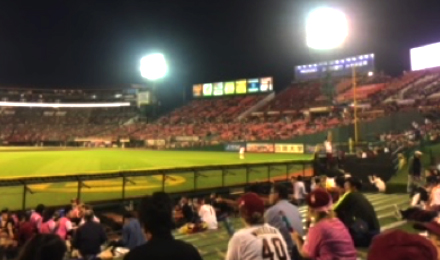 Working for Nova and living in Japan has been an amazing experience and opportunity. I love living here in Yamagata, enjoying small town life and exploring the mountains of the Tohoku region. Yamagata is a great place to experience Japanese culture. I love my job here with Nova, it has been a blast. Teaching English to Japanese students is a lot of fun and has been a very interesting and rewarding experience. Through my tenure with Nova I have been able to grow and mature as an instructor. I love my life here and I love teaching English with Nova. I look forward to many more years working for Nova and living in Yamgata.

- Jason, Yamagata Instructor
History
If you want to explore the history of the region, there are many great places to check out or museums to explore. The top of these are the Date Masamune Cultural museum in Sendai, Yamadera or Zenpo-ji in Yamagata, or Maezawa Magariya Village or Tsuruga Castle in Fukushima.
Date Masamume was one of the most powerful feudal lords of the Edo Period. The Date Masamume Cultural museum and retells the story of his life.
Yamadera is mountain temple founded in the 9th century and Zenpo-ji is a nearly 800-year-old temple, home to an impressive five-story pagoda.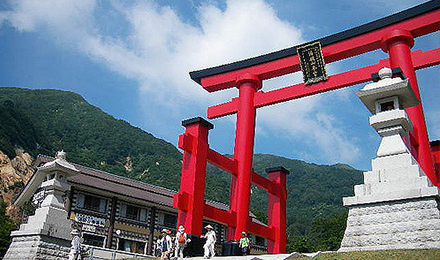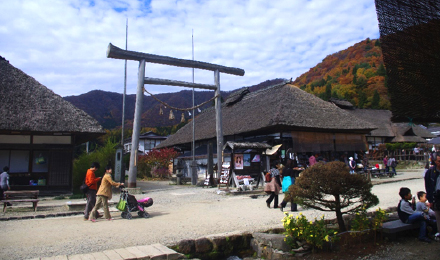 Maezawa Magariya Village is a village established by Aizu samurai and Tsuruga Castle is a nationally designated historical site.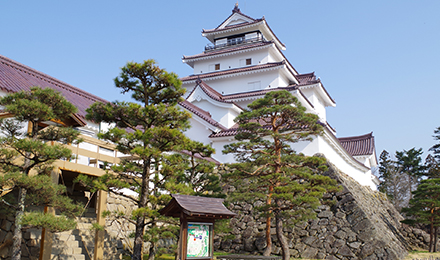 While it's not quite like the major metropolitan destinations, such as Tokyo or Osaka, when you imagine Japan, the Tohoku area presents many charms that these areas don't. The community is strong and very-closely knit. It's enjoyable to get to know my students well, and it's fun to learn a thing or two from them too- perhaps about local specialties, travel spots, and hobbies. Lessons here have felt intimate and like getting to make good friends. I owe many thanks to the students of Sendai that my free time has been filled with amazing experiences and adventures. In some ways, I feel like I've become very involved with the local culture and I'm glad to have had this experience because of the fact I'm in the Tohoku area.

- Robert, Sendai Instructor