Tohoku: Aomori, Akita, Iwate
Aomori, Akita and Iwate prefectures are part of the Tohoku region and located in the northernmost part of Honshu, Japan's biggest island. Steeped in beautiful nature, scenery and local cuisine, Northern Tohoku is ideal for those who wish to avoid the big city life. That is not to say that Northern Tohoku is devoid of urban centres. Akita, Aomori, Hirosaki and Hachinohe can all claim to be mid-sized cities in their own right, with larger cities to the south only a bullet train ride away and Hokkaido just over the sea (or through the tunnel) to the north.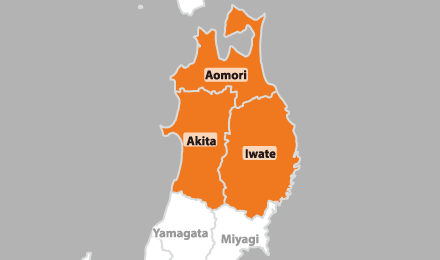 "I've been working in the Northern Tohoku region for about six years now. The thing I most like about the area is the kindness of its people. People will often go out of their way to lend a hand, even when there is a language barrier! Additionally, the scenery and nature can be breathtaking; encompassing mountain ranges, rivers and even World heritage sites of enormous beauty! Finally, there is the nightlife and cuisine. Each city boasts its own areas of restaurants and bars that serve some truly delicious and authentic cuisine."

- Mark, Instructor Manager, Tohoku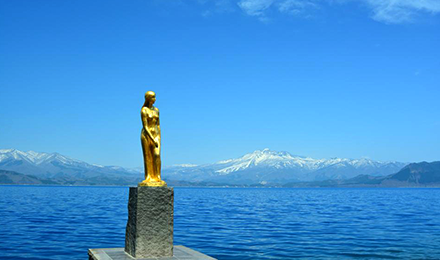 "Although the prefecture itself can be quite rural, Akita city is large enough to be comfortable and convenient."

- Sterling, Akita instructor
History
It is believed that the Tohoku area was settled between the seventh and ninth centuries, sometime after civilization and culture had developed to the south. Famous for the many battles fought by the indigenous Emishi, the area has managed to exert a degree of autonomy from Kyoto over the centuries.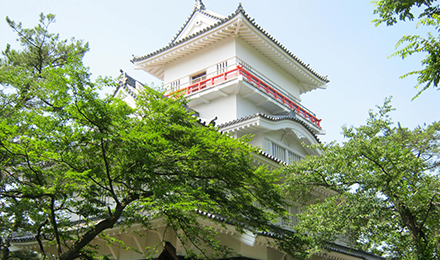 Kubota castle
Today, the Northern Tohoku region is home to many castles, temples and shrines that take visitors back into the region's colourful past. The samurai village of Kakunodate is often referred to as, 'the Kyoto of Tohoku'.
"I love walking around the castles in my free time".

- Gareth, Morioka instructor
Entertainment and Cuisine
If you are interested in good food and drink, then Northern Tohoku is the place to be. Because of its pure water, Akita rice (Komachi) is unrivalled, and Kiritanpo, rolled rice in a stew, is a popular local dish. Again, thanks to the clean water and quality rice, the sake made in this area is internationally acclaimed.
Aomori apples are famous throughout Japan, and the number of apple farms around the prefecture is truly amazing. Senbei soup is a must-try when visiting Hachinohe. And if you like seafood, you'll definitely want to order the tuna in Aomori.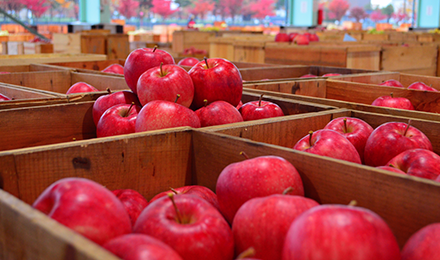 For noodle lovers, please check out the jajamen ramen that Iwate has to offer. Also, test how many bowls of wanko (one cup) soba you can get through. Served in small bowls, your bowl will be automatically refilled every time you empty it.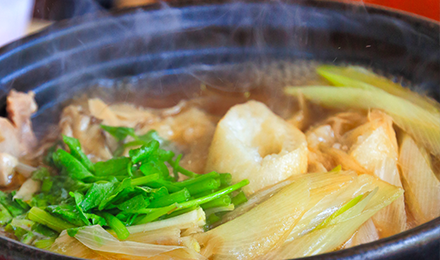 Each area has its own eating and drinking area, often only a short stroll from a train station. There you can find a variety of outlets; grilled chicken shops, izakayas (Japanese bars), international foods and karaoke, to name but a few.
"I really enjoy all the special noodle dishes around here".

- Anthony, Morioka instructor
Outdoors
Northern Tohoku boasts views and activities that any outdoor enthusiast would be envious of. There are a host of mountain ranges, clean rivers and hot springs to enjoy. The Shirakami mountain range, straddling the border between Akita and Aomori prefectures, is a stunning example of pristine virgin beech forest that is well worth a visit in any season, but the colors in fall are particularly spectacular. Mount Osore to the north of Aomori prefecture is a spooky mountain with a temple located in the caldera of an active volcano where mediums summon the souls of the dead.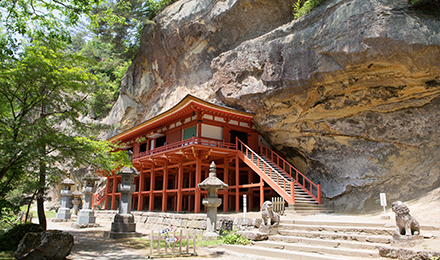 There are abundant hot springs in which you can soak away all your troubles while marvelling at the untouched nature in this part of Japan, from hot springs nestled into the coastline of the Japan Sea where you can relax, enjoy panoramic views, and watch the sun set over the ocean, to remote hot springs in the mountains only accessible by snowmobile in winter. Sitting in a hot bath with snow falling silently all around you is an unforgettable experience.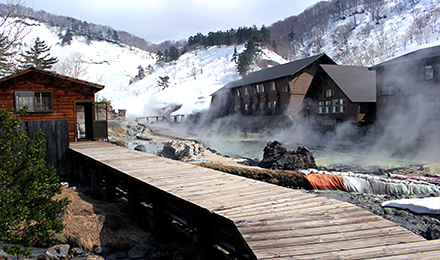 Tamagawa Onsen
The rivers are really that clean, making it a perfect place for fishing, on top of the excellent fishing to be found around the coast. Oirase Gorge is regarded by many as the most beautiful river valley in Japan. The crystal-clear stream flows from Lake Towada, a picturesque crater lake on the border of Akita and Aomori prefectures. The area is great for camping in summer.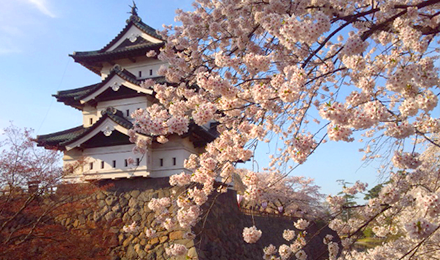 Hirosaki Castle
In the spring season, the cherry blossoms around Hirosaki Castle are truly spectacular. It's hard to find a better setting for a cherry-blossom viewing party than Hirosaki Park, with its 2,600 cherry trees, traditional castle, and Mount Iwaki (the Mount Fuji of Northern Japan) standing majestic in the background.
If you want to see scary creatures, then make your way to the Oga peninsula, where you can meet Namahage, mythical figures who have no time for lazy or badly-behaved individuals!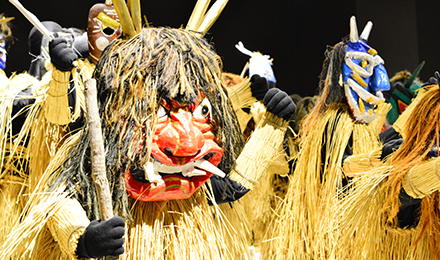 Namahage
"I like living in Hachinohe because it's a small town surrounded by beautiful nature, with the beach nearby and great hiking trails".

- Charlotte, Hachinohe instructor
Sports
Northern Tohoku has its fair amount of snow in the winter; making it a fantastic area for winter sports. There are various spots throughout the region where you can enjoy skiing and snowboarding, many of these only a short drive or bus ride away from the city, with great conditions and fewer crowds than the more touristy ski resort areas in places such as Hokkaido.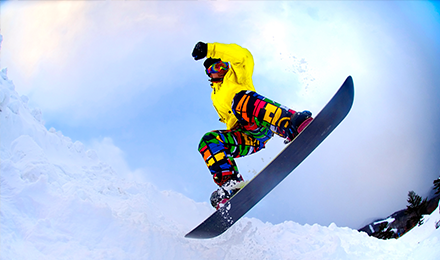 "I like that Hachinohe has nearby beaches, and mountains on the other side, for hiking and snowboarding. There are lots of active things to do in the area".

- Mike, Hachinohe instructor
Festivals
Northern Tohoku is in a league of its own when it comes to the amount of festivals that are available!
Nebuta, in Aomori city, is a summer festival famous for its huge ornate lantern floats that are pushed along the streets, accompanied by drummers, flute and cymbal players, and large groups of dancers. This festival draws the largest number of visitors to Tohoku. If you buy or rent the costume, you can join in!
Nearby Hirosaki holds the Neputa festival at around the same time. Large fan-shaped floats depicting epic and fantastic images of warriors are paraded through the town, accompanied by flute players and Japanese drum players. A special feature of Neputa are the enormous odaiko drums with their incredible resounding vibrations.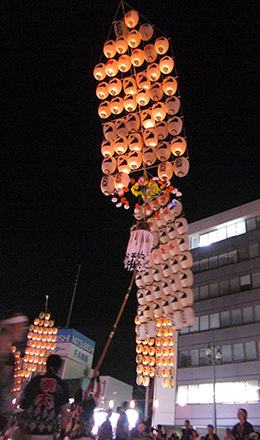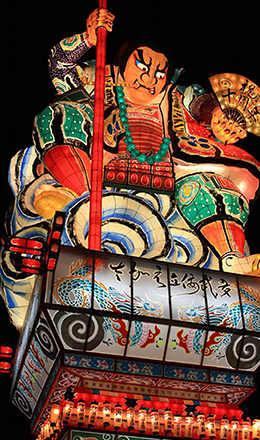 Also well worth checking out if you're in the area for Nebuta or Neputa or both is the Tachineputa festival in neighboring Goshogawara. Its parade floats are 23 meters tall!
The Akita Kanto festival involves performers (and members of the public!) balancing long bamboo poles hung with paper lanterns. The biggest Kanto is 12 metres long with a weight of 50kg! The Morioka Sansa Odori festival includes men and women in traditional costume dancing to the tempo of drums. It can claim to have held a Guinness World record for the number of drums to be congregated in one place!
In winter, Hirosaki's snow lantern festival might not rival Sapporo's snow festival but the ice sculptures and snow lanterns are enchanting.
"In the snow festival, the lanterns in the snow are eerily beautiful".

- Ham, Hirosaki instructor
"Aomori has Nebuta and the Cherry Blossom Festival, the best spring and summer festivals in Japan".

- Jimmy, Aomori instructor
Travel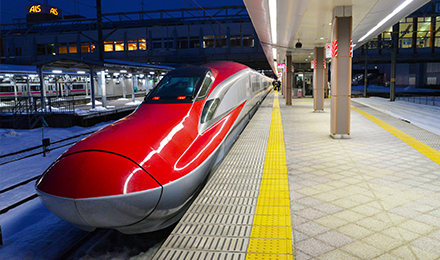 All the major cities in North Tohoku are easy to access, with many of them connected to shinkansen lines which makes it easy to access Sendai and Tokyo. Each prefecture also has an airport in addition to local train and bus networks.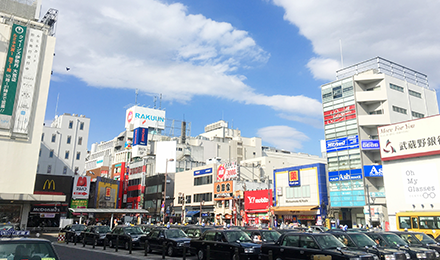 Omiya Station Square