Tochigi
Tochigi prefecture is a landlocked area to the north of Tokyo. With the largest open plain in the region in its center, the area is spacious compared to the more cramped conditions of the capital, and an excellent base for delving into Japanese history and nature, as well as for visiting the bright lights of Tokyo.
The centrally located compact capital of the prefecture, Utsunomiya, is an excellent place to live, and is famous for its gyouza (Chinese style dumplings). To the north is the beautiful area of Nasu, which has hiking routes, ski resorts and hot springs. To the west, is one of the top sights in Japan, Nikko. History is in abundance and the mountains in and around the city are breathtaking.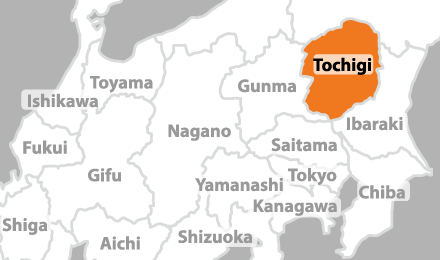 "Come and join us in Tochigi! The people are very friendly, and you WILL make friends easily. The scenery, especially in the north and west of the prefecture, is truly stunning and has to be seen to be believed. It's a great place for those who want to experience the "real" Japan and get outdoors, while still having Tokyo just a short train ride away for all your entertainment needs. Choose Tochigi for an unforgettable experience!"
- Barry, Instructor Manager
Food and Drink
Tochigi is a gastronome's delight, with several excellent locally produced foods and drinks. Utsunomiya is home to the largest concentration of gyoza restaurants in the country and you can find any style to suit your taste buds – crispy, meaty, or juicy. Tochigi beef may not be as famous as Kobe's, but it too will melt in your mouth.
The prefecture is the manufacturing heartbeat of the country, but is also known for its delicious strawberries, milk and beef.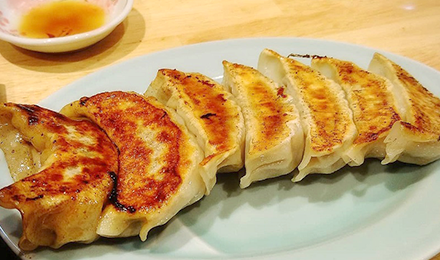 "I love the food and how easy it is to access other major cities."
- Alisha, Utsunomiya instructor
Try Tochigi's excellent strawberries – pick them yourself or try any number of products made from them – cakes, sweets, or even cocktails.
Speaking of cocktails, Utsunomiya is home to several excellent bars offering a range of delicious cocktails made for you by professional master bartenders. If you want to try some of the local tipples, there are several wonderful local sake and craft beer breweries.
If you prefer your drinks a little less strong, Lemon Milk is a popular souvenir that people from out of town take back to their friends and family.
In Utsunomiya, you will also find several yatai (small drinking establishments) that offer a range of locally produced beverages as well as tasty yakitori (grilled chicken skewers), tempura (deep fried vegetables and fish) and oden (assorted boiled foods in a soup).
Outdoors
With mountains reaching over 2000m to the north and west, you can expect some excellent outdoor activities. The Nasu area has excellent hiking in the spring, summer and autumn months, as well as being a popular ski resort for those who like their winter sports. Lake Chuzenji in the west of Nikko, offers stunning scenery and excellent fishing as well as hikes for both novice and more experienced climbers alike.
"The people are friendly and the scenery is beautiful."
- Kyle, Utsunomiya instructor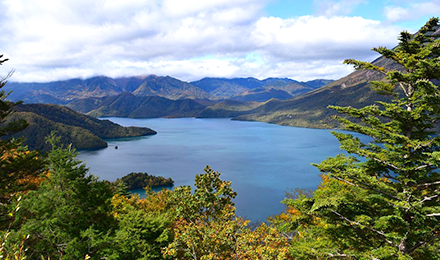 Kinugawa Onsen in the north-west of the prefecture is situated in an incredible gorge where you can enjoy rafting down the rapids. If you want to relax after a long day walking or rafting, or if you just want to take things easy, the aforementioned Nasu, Kinugawa Onsen, and Lake Chuzenji all offer excellent hot springs at a variety of different prices.
Travel
"I really love the variety of students I meet and teach in Oyama, and the broad range I ages I encounter. Here, it's typical on a daily basis to meet students of all ages and from all walks of life – kids, university students, working professionals, homemakers, and senior citizens – in a variety of regular and special lessons. All have different motivations for studying English and it really keeps me on my toes in delivering tailored lessons that perfectly suit the students' needs. Living in Tochigi offers one just the right balance between urban convenience and access to recreational resources which makes it perfect for those individuals looking for lots of places to explore without the hassle of trying to get out of the big city first. In Tochigi, cultural spots and more traditional ways of Japanese life are at your doorstep."
- Chuck, Oyama Instructor
Both Utsunomiya and Oyama are major Shinkansen (bullet train) stops that which can whisk you away to Tokyo in 30 minutes or even up to Hokkaido in a few hours and everywhere else in between. For those who prefer their trains to move at a slightly more sedate pace, there are also a couple of steam locomotives running in the prefecture that will take you back to the Golden Age of Steam.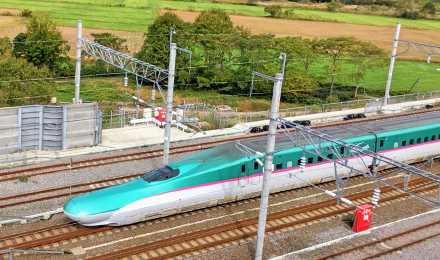 Shopping
Want to go shopping? No problem! Interpark, a short (free!) bus ride from Utsunomiya station is a massive sprawling shopping complex with hot springs, cinemas and restaurants. Bell Mall to the east of the city offers all your shopping needs under one roof. At the Tobu Department store you will find a selection of classy boutiques and world-famous brands. The cities of Sano and Nasu both offer outlet malls, where you can find leading brand goods at cut prices.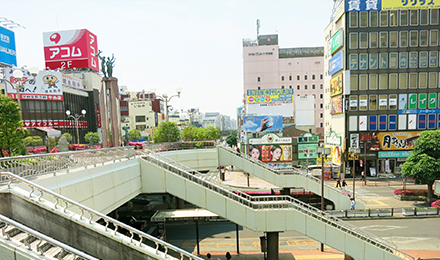 "Tochigi is an affordable and convenient place to live and is close to a lot of excellent tourist spots. It also has a lot of great shopping areas."
- James, Utsunomiya instructor
History, Culture and Sightseeing
Tochigi is home to one of the most famous and brilliant shrines in Japan – Tosho-gu in Nikko. Built in 1617, it is one of the most ornate shrines in the whole country and enshrines Tokugawa Ieyasu, the founder of the Shogunate in Japan. One of the carvings in Tosho-gu depicts three wise monkeys and is believed to be the origin of the phrase "Hear no evil, see no evil, speak no evil". Nikko is also home to several other impressive temples and shrines and is a must-see for the history buffs among you.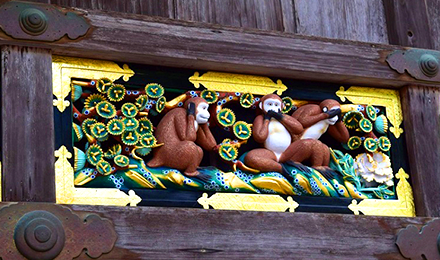 Ashikaga Flower Park is a beautiful place for those who want to wander for a few hours among beautiful colors and fragrances. Mashiko Town, to the east, is renowned throughout Japan for its pottery. Wander around the beautiful streets and even try your hand at making something yourself for that unique memory of the country.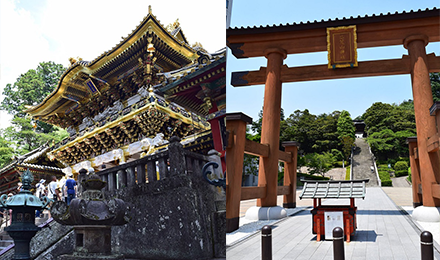 If you walk around Tochigi long enough you will notice an abundance of stone buildings. This stone was mined to the west of Utsunomiya at the Ohya Stone Quarry. The quarry is well worth a visit and attracts thousands of visitors a year. Near the quarry, you will find a giant statue of Kannon (the Buddhist god of mercy) as well as an impressive temple with a delightful garden and ancient stone carvings.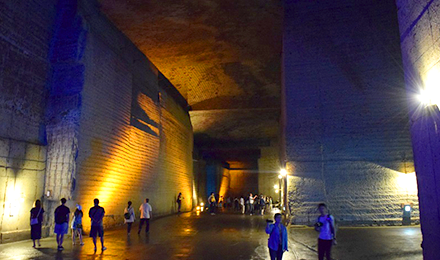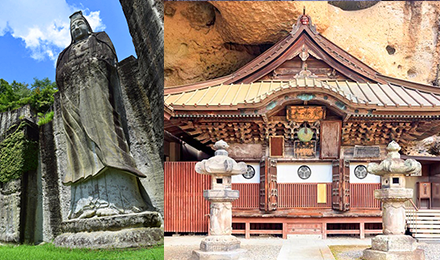 "Tochigi is a great place to live – I love the balance of nature and city life."
- Rob, Oyama Instructor
Sports
Sports fans have a lot to cheer about in Tochigi. Utsunomiya is home to one of Japan's best professional basketball teams, BREX Tochigi. Their captain is former NBA player Yuto Tabuse. There are also several FIBA tour matches held in Utsunomiya featuring NBA stars.
If you are a fan of a different ball game, Tochigi Soccer Club have been growing of late and have a small, but extremely dedicated fanbase.
Nikko hosts the Nikko Ice Bucks – their fervent local fanbase ensures that every visit will be an experience!
If you enjoy sport on two wheels, head on over to the Keirin stadium in Utsunomiya, or line the streets to watch the Tour de Tochigi, a major cycling road race.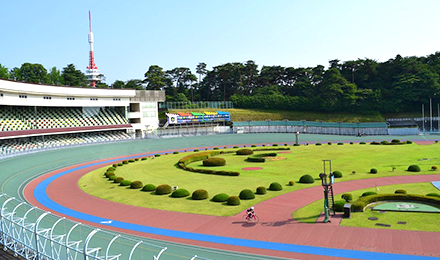 Above: Keirin stadium
Festivals
Festivals are in abundance throughout the year. Nikko hosts several – The 1000 Samurai Procession is a sight to behold with 1000 or more local participants dressed up in traditional samurai armor.
The Nikko Yabusame Archery Festival held in Spring brings Japan's top archers together for a major tournament. The horseback archers, in particular, are something that everyone should see at least once, and you will be amazed at these men and women of all ages hitting tiny targets precisely at long range while moving at full speed on the back of a horse.
Throughout the summer, you will also have the opportunity to visit numerous fireworks festivals. The fireworks are nothing short of spectacular!
"The City is only an hour away, but so are the mountains where you can go skiing and snowboarding."
- Delian, Nasu Instructor