Shizuoka
The Tokai region is located in the very center of Japan. It has a population of approximately 17 million people and a size of roughly 40,000 sq.km. Mountains are extremely close with the three ranges of the Japanese Alps (Northern, Central and Southern) all running through Nagano prefecture, making for some of the best skiing in Japan and spanning into Gifu or Shizuoka, peaking at the world famous Mt. Fuji in Shizuoka prefecture. It is well-known that Tokai is one of the hottest and most humid places during summer but rivers such as the Nagara are the perfect place for cooling down with BBQs, swimming and rafting.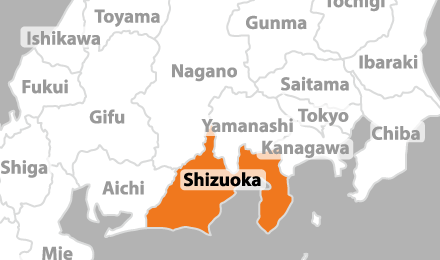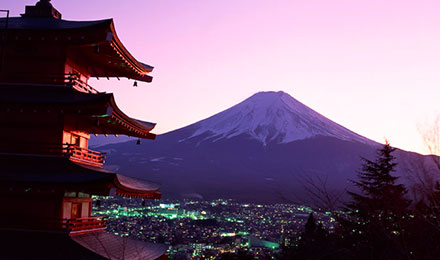 Shizuoka prefecture is renowned for being a quiet and conservative part of Japan, and is in many ways the spiritual center and heart of Japan. It stretches from famous Hakone and Mt. Fuji in the east, along the historical Tokaido road through Shizuoka city, historically called Sumpu and the resting place of Tokugawa Ieyasu, to the musical city of Hamamatsu in the west. Exploring Japan beyond the prefecture is easy, both Tokyo and Nagoya are a short Shinkansen ride away, and a coach ride north will take you into the mountains of Yamanashi, Nagano and Gifu. There is a wealth of nature and culture, both old and new, to enjoy in Shizuoka. And it is very peaceful, making it an ideal place to experience the best that Japan has to offer at a pace the locals call "Shizuoka time".
I've been in Shizuoka for over ten years now and the variety of the culture and lifestyles one can pursue here keeps amazing me. It's like living within a quiet country within Japan, you can enjoy Shizuoka life without a care for what's happening elsewhere, and if you like you can take short trips to experience the highlights of Tokyo and return to the calm of Shizuoka within a day. I highly recommend it!
- David, Shizuoka Instructor Support Manager
Outdoors
Standing in the shadows of Mt. Fuji is Shizuoka. Known the world around, Mt. Fuji is not only a symbol of Japan but beauty as well. Relax on the Asagiri Highland, where you can see the sun crest the mountain, known as Diamond Fuji, or break a sweat as you climb to the top of this 3,776 meter peak.
"Shizuoka is close to Mt. Fuji, forests, mountains and has good scenery. It's beautiful in Autumn."
– Liam, Shizuoka instructor
"Shizuoka has the best climate in Japan, not so humid in summer, little or no snow in winter"
– Dave, Shizuoka instructor
Food
Shizuoka is a gourmand's heaven, being one of the few places in Japan you can get a taste of the sea as well as the mountains. Broaden your horizons with specialties such as grilled eel, tatami iwashi ("grilled sardines") or some soft shell turtle. Spice it up with some wasabi, as Shizuoka is one of the largest wasabi growing areas. The warm climate also makes it an excellent location for strawberries, mandarin oranges, and loads of other fresh fruit.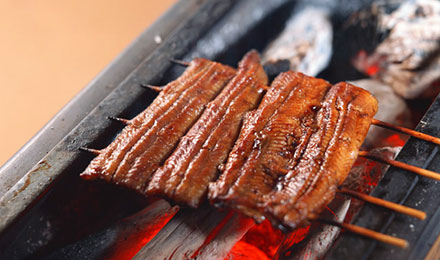 The sparkling crystal clear waters of Shizuoka make for perfect sake brewing. Dotted across the peninsula are around thirty breweries that specialize in regional brands with some producing limited batches for well-known restaurants. Top it off with seasonal collections and have a taste of Japan all year long.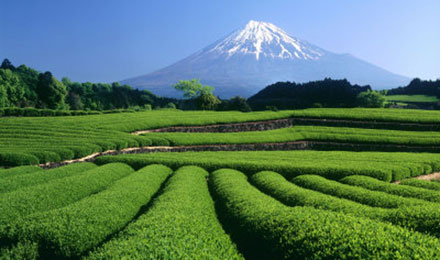 Draped across the mountains of Shizuoka, you will find the largest green tea growing area. Visit the World Tea Museum in Shimada and join a tea ceremony, or try your hand at picking your own tea leaves.
"Good food, clean air and outdoor activities."
– Mike T, Shizuoka instructor (Numazu school)
Arts and Crafts
Experience a piece of Japanese tradition and take it home with you, as Shizuoka offers a variety of hands on arts and crafts experiences. Acty Mori in Mori offers a plethora of hands-on activities for visitors that includes ceramics, washi (Japanese dyed paper) and much more. After a hard day of arts and crafts, stop by the local produce markets and have yourself a BBQ at this lovely complex. Or venture over to Sumpu Takumi-Shuku in Shizuoka City where you can try out making lacquer and bamboo products.
Sports
Welcome to the heartland of Japanese soccer. Having strong high school teams, producing many Japanese national team players, and even a soccer themed prefectural police mascot (Sp-kun), Shizuoka is soccer mad. Things get heated during the Shizuoka Derby where prefectural rivals Shimuzu S Pulse and Júbilo Iwata face off. Both clubs have been perennially strong, with Shimuzu S Pulse in particular having some of the most die-hard and enthusiastic fans.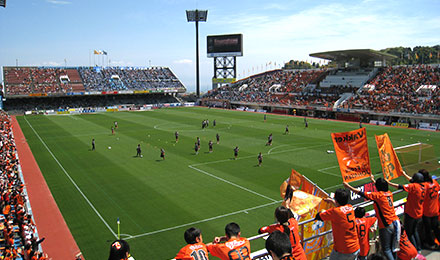 An angler's dream, Shizuoka offers bountiful rivers and access to the ocean. Crisscrossing the prefecture you can find many clear rivers teeming with sweet fish, or head out to Shimizu Port for some salt water fishing. If the fish aren't biting you can always stop by Kashi-no-Ichi Market and pick up some dinner.
Catch some waves on the southern tip of Izu peninsula, which has waves all year round. Beaches near Makinohara have lovely sandy beaches and waves that are welcoming to beginners. If you want something challenging, head over to Omaezaki where waves can get up to 6'. It's also the home of the World Body Boarding Championships.
"It's convenient, not as crowded and more open than Tokyo and Osaka."
– Michael T, Shizuoka instructor (Hamamatsu school)
Relax
Let all your cares melt away as you take a dip in one of the many hot springs that populate the Izu peninsula.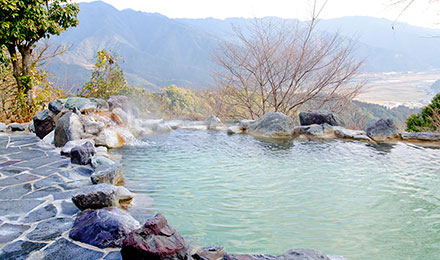 In Atami (literally "hot ocean") you can spend an afternoon on a sandy beach and get clean at one of the many public hot springs within walking distance. Or just rest your feet in the footbath next to the station.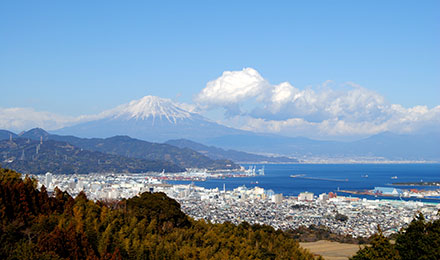 Further down the peninsula are the sandy white beaches of Shimoda. The town is jam packed with hot springs as well as ryokan (Japanese traditional inns) of all price ranges. It's an excellent location to watch the sun rise over the Pacific while you soak in an outdoor bath.
"Shizuoka has the best climate in Japan, not so humid in summer, no snow in winter"
– Dave, Shizuoka instructor
Learn
Get lost in the sculpture garden at the Shizuoka Prefectural Museum of Art in Shizuoka City. Featuring works of both European and Japanese masters, it is an impressive collection. There is even a Rodin exhibit where you can ponder with "The Thinker".
Music is alive and well in Hamamatsu or "Japan's City of Music". Most musical instrument companies are based in the city, as well as the Hamamatsu Museum of Musical Instruments. There are thousands of instruments from around the world on display within the museum. But that's not all. With concerts, guided tours with demonstrations, and a hands-on room to show off your skills it truly is a one-of-a -kind museum.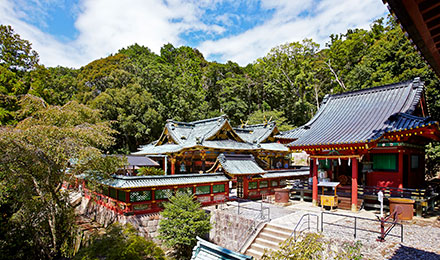 Sightseeing
See some truly ancient history at Toro in Shizuoka City. The site, almost as old as Japan itself, is of note due to the large number of artifacts left behind by the residents after a devastating mudslide. Explore the grounds or take a look at life thousands of years ago in the adjacent museum.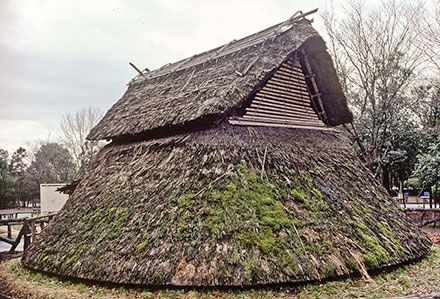 Festivals
"Ladies and Gentlemen, step right up" at the Daidogei World Cup in Shizuoka City. This international busking festival is perhaps one of Shizuoka's biggest events. The highly competitive event draws crowds of millions and was recently extended to four days by popular demand.
"I used to study here and have many friends here and it's just more peaceful than Tokyo."
– Michael L, Shizuoka instructor (Numazu school)