Okinawa
The Okinawa Islands are a string of islands under the main body of Japan. Set like a jewel in the Pacific Ocean Okinawa offers instructors a truly unique lifestyle and location for work, play and exploration.Local festivals and culture are unique to the island, and there is always something happening. Not only that, with the lower cost of living and accommodations, you'll have much more space for the cost than you might living in a crowded city like Tokyo.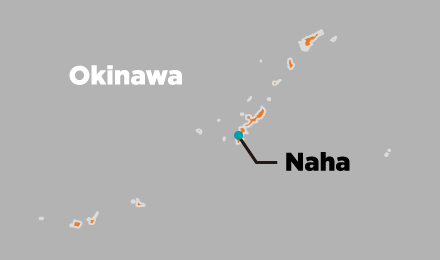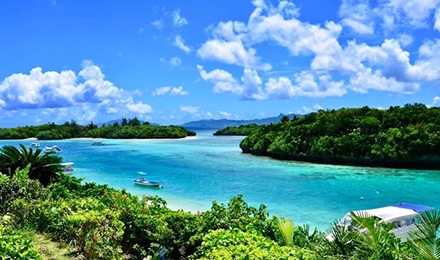 "If you're worried about the frenetic pace of city life in Japan, worry no more and come to Okinawa! Okinawa has a much more laid-back and relaxed atmosphere than anywhere else in Japan, which is why it is such an incredibly popular tourist destination with both the Japanese and other nationalities. The Furujima branch in the capital of Naha is only a short monorail ride to the heart of the city where you will find a huge selection of bars and restaurants. You must try the delicious local specialties of Okinawa Soba (thick noodles with big chunks of pork) Taco Rice (spicy taco meat, lettuce, cheese and tomato on rice) and Goya Champuru (Stir-fried bitter melon, vegetables, egg and Spam-yes Spam!)."
- Aleksander Makowsky, Instructor Support Manager
Food
While you'd imagine Okinawa to be famous for its seafood and sushi, you may be surprised just how different Okinawa's traditional and modern classics are from your expectations.
Taco rice is a Japanese take on American style Mexican food. Ground beef, shredded cheese and all the taco fixings served on a bed of rice! Try Goya Champuru, Okinawa's signature dish. A mix of the bitter goya melon cooked with things like egg and tofu and many combinations of meats, vegetables and fish might sound a little strange to the uninitiated. But this surprising stir-fry dish is Okinawa personified. It can't be missed!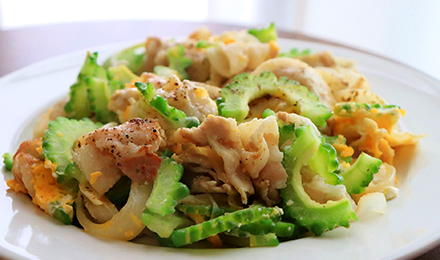 For noodle lovers, there's Okinawa Soba. The thick wheat noodles are unlike mainland soba, and the dish's broth is richly flavored with fish flakes and pork broth, reminiscent of some types of ramen. Topped with fish cakes, or pork belly or even pork ribs this savory comfort dish perfect for any occasion.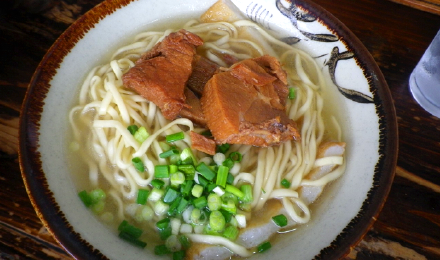 Also due to Okinawa having been under the control of the US for around 30 years you will find much more access to Western food and goods than in other parts of the country (especially important when you're finally tired of sushi!) Another welcome result of this is that many places have English-speaking staff and/or menus.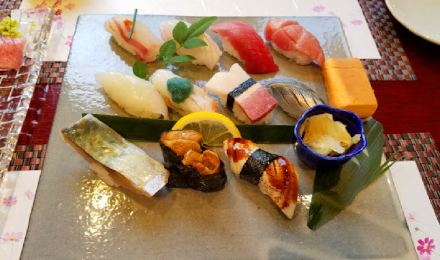 "I first found out that I was moving to Okinawa when I was still in the UK. At first, I was completely shocked thinking this was not really what I had in mind when I thought of Japan. Well, that was nearly 12 years ago I am still here. What I found was a fantastic climate, beautiful beaches, stunning ocean, great food, friendly people and nightlife that keep going to dawn and beyond! I would recommend Okinawa as a great destination to begin your life in Japan, and you too might never want to leave."
- Mark, Furujima instructor
Sightseeing and Culture
Check out Shuri Castle. A UNESCO world heritage site with an interesting history. Shuri Castle is built in an architectural style unlike most mainland Japanese castles. The beautiful red and gold color of the castle and surrounding complex is also spectacular when lit up at night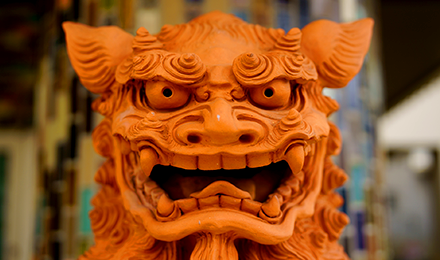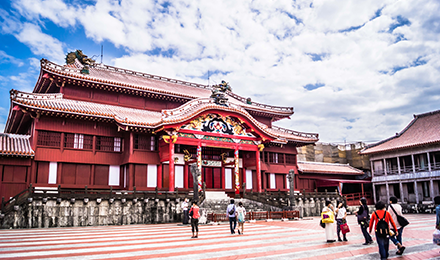 Take a trip to Kira Kira beach in Nishihara. One of the most famous among Okinawa's over 130 beaches, Kira Kira has beautiful tropical blue shores and white sand. With large areas for barbecues, soccer or beach volleyball it's a perfect place to relax on a day off. And if you're up early enough to catch the sunrise you might find local practicing martial arts on the shores.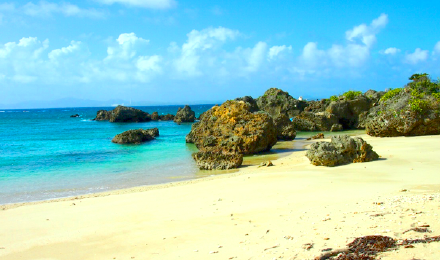 After the beach you can head over to Churaumi Aquarium to learn about life under the waves. The four floor aquarium holds massive tanks where whale sharks and manta ray swim freely among tropical fish and coral.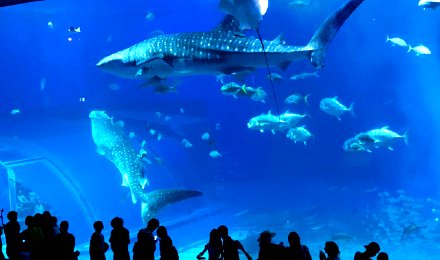 "Okinawa has a different atmosphere than anywhere else in Japan. There's lots to see and do. Apartments are larger and cheaper with parking often included. The diving is amazing and cheap too! Teaching at NOVA is very rewarding. By making lessons exciting and fun you really get back from students the effort you put in. I also appreciate the schedule flexibility. Being able to take vacation days outside of national holidays where everywhere in crowded and expensive is a big plus for me."
- David, Awase instructor
Shopping
When you're ready to shop for souvenirs or anything local you'll have to check out Kokusai dori and Makishi Markets. Kokusai Dori is a 2km street lined with palm trees, local shops and restaurants. Perfect for a shopping trips and lunch, or just to take interesting photos!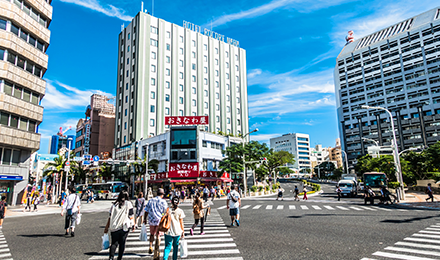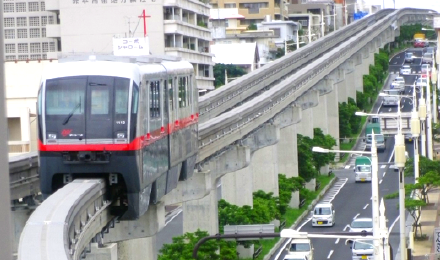 One of the most charming markets of its kind anywhere in Japan, Makishi market is where you shop for fresh seafood alongside locals. Pick out whatever you like the look of and take it upstairs to be cooked on the spot!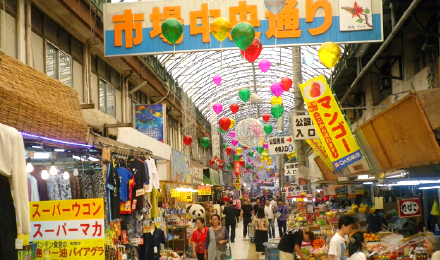 Outdoors
It almost goes without saying Okinawa has perhaps the best weather of anywhere in Japan. Sunny summers are no problem as the ocean breeze strips away most of the humidity that might bother you on the mainland. And summers are the mildest in Japan. It's always beach season, especially if you love things like surfing and kayaking.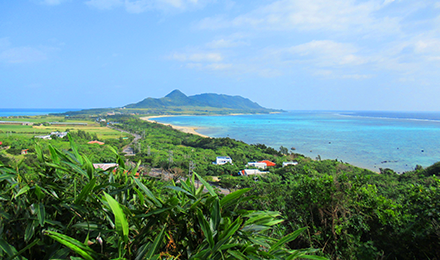 Snorkeling and scuba-diving is fun and accessible in Okinawa, and the myriad of tiny islands that dot the coast are perfect for a day's adventure by boat or ferry.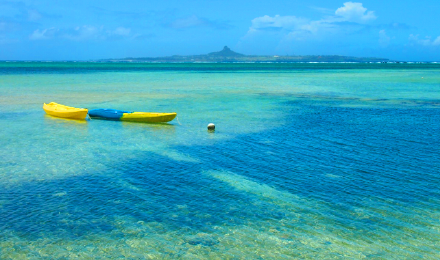 "I love Okinawa. You'd be hard pressed to find friendlier people, the food is great, and how can you beat living on a tropical island? Whether you like outdoor adventuring or relaxing in cozy cafes, there's something here for everybody to enjoy."
- Tony, Awase instructor