Hokuriku
The Hokuriku region is located on the Sea of Japan in central-Western Honshu, the main island of Japan. The Hokuriku region includes the three prefectures of Fukui, Toyama, and Ishikawa. The Noto Peninsula stands out as a prominent feature on maps of Japan.
Industry in the Hokuriku region includes the production of heavy machinery, farming, fishing, tourism, textiles, and pharmaceuticals. With the introduction of the Hokuriku Shinkansen in 2015, travel to and from Tokyo has opened up the region to travelers, with people visiting to indulge in the freshest seafood, traditional Japanese confectionary, and local varieties of sake.
The region is well-known for seasonal variety: hot summers, white winters, the changing leaves of fall, and the pink cherry blossoms of spring. Trips to the beach, ski trips in the mountains, shrines, temples, and castles to explore, hot springs to relax in, nightlife to enjoy – it has everything. A spectacular balance between urban, historical, and environmental splendor.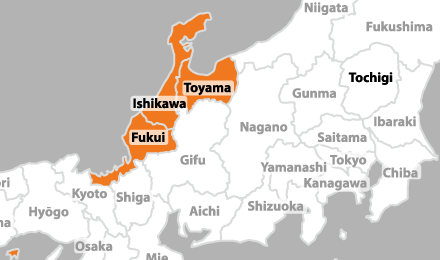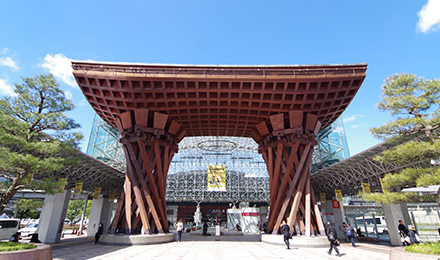 "As a resident of Hokuriku for 12 years, I have never considered leaving. It was exciting when I first arrived and has been a great place to raise a family. Transportation between Tokyo, Kyoto, and other major cities is convenient. The area has a great work spirit between staff and instructors. Instructors coming into the area tend to stay a long time. Hokuriku simply has everything for people of all ages and interests. A place I am happy to call home."
- Hamish (Australia), Instructor Support Manager
Entertainment
Kanazawa, Toyama, and Fukui have a large variety of clubs, izakayas, karaoke bars, and restaurants. Whether in the mood for a traditional Japanese meal, sushi on a conveyor belt, a fun night out with friends, or trying the local craft beer and sake – there are choices to excite the connoisseur as well as the easygoing customer.
Game centers, movie theatres, dart and pool bars, karaoke, and amusement parks. Enough to more than satisfy people of all interests. Travel easily through Hokuriku and other parts of Japan to attend live music concerts, major sporting events, and annual local festivals.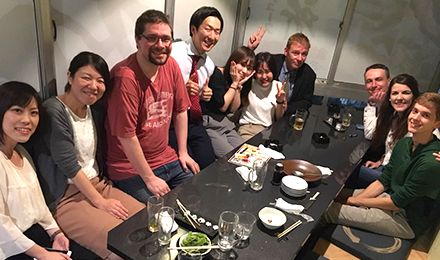 Outdoors
Visit the hot springs, beaches, mountains, and historical sights. A unique variety of sights for people of all ages. Whether an avid athlete, an energetic tourist, or a long-term resident, there's something for everyone.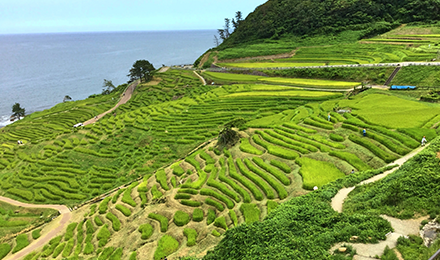 "Kanazawa is a beautiful city full of attractions and things to do, but without the hustle and bustle of the larger cities. For me, it's been an ideal place to live and work.My time with NOVA has been pleasant. The students are unfailingly friendly, and the kids are super cute!"
- Max (Australia), Al Plaza Kanazawa instructor
Kanazawa, formally famous as a castle town, is known by many as Little Kyoto. Enjoy a day trip to Kanazawa Castle (1583), combined with a walk around one of the largest and most beautiful gardens in Japan, Kenrokuen. As a city of historical and environmental interest, Toyama has much to offer. Stand on the viewing deck of Kurobe dam, the tallest dam in Japan. Visit Toyama Castle (1543). In winter, snow walls of up to 50 feet in height line the Tateyama alpine route. Enjoy the beautiful mountain ranges while on a ski trip to an onsen resort. Fukui, once ranked as the happiest place in Japan, has a superb mixture of tall ocean cliffs, deep forests and an easygoing urban environment.
"Hokuriku is gifted with beautiful nature and the freshest, most delicious food. I enjoy the peaceful nature of the mid-size urban environment in Toyama."
- Richard (United States), Toyama Gofuku instructor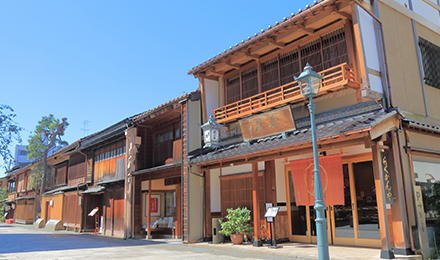 Travel
Use the Hokuriku Shinkansen to access the major metropolitan areas of Japan. Travel between Tokyo and Hokuriku is convenient with trains leaving at all times of the day. Fly from Komatsu airport and access remote areas of Japan, and nearby countries within hours.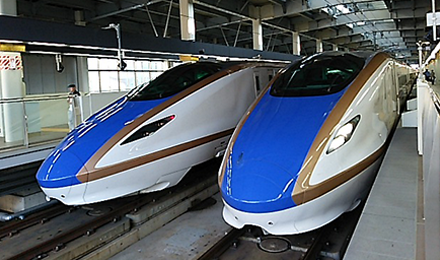 Shopping
The cities of Hokuriku have shops, department stores, and markets to cater to people of all interests. Whether shopping for the latest fashions in the center of town, buying your favorite foreign foods at famous chain stores such as Costco, or buying the freshest seafood, fruit and vegetables at Omicho Market, the largest market in Kanazawa since the Edo period – you will want for nothing.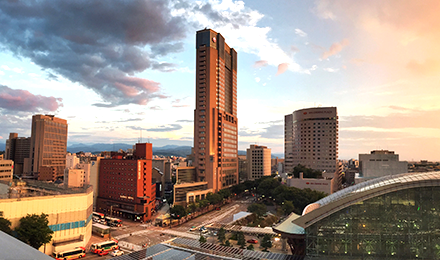 "I got lucky working in Hokuriku. We have amazing mountains, oceans and forests. Not to mention temples, shrines, and festivals. Recently we got the Shinkansen which gives easy access to Tokyo. Best of all though are the people: friendly, kind and courteous. Check it out. You won't be disappointed!!"
- Nathan (United States), Fukui Ekimae instructor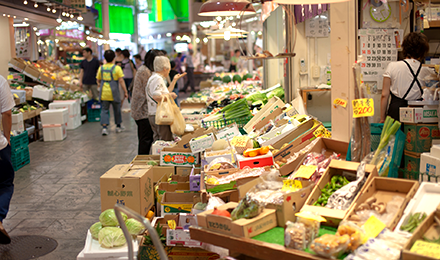 Culture
The history of Kanazawa begins in the mid-sixteenth century. Virtually undisturbed by war or natural disaster, the layout of the old town and sites of historical interest are a must do. Visit the samurai district and the Geisha houses of the Higashiyama district, rivaling Gion in Kyoto.
In Toyama, visit the World Heritage listed sites of Shirakawa-go and Gokuyama, the site of historical villages. If you are having coffee, you might realize you are looking out the window at one of the most beautiful views from any Starbucks in the world, overlooking the Fugan canal.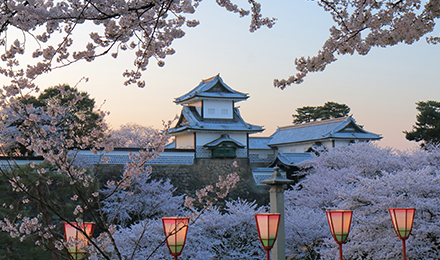 On a trip to Fukui, you may find yourself visiting the historic Eihei-ji temple (The Temple of Eternal Peace), founded in the mid-thirteenth century and a peaceful center for the training of Buddhist monks. Or if your historical interests go further back in time, the Fukui Prefectural Dinosaur Museum displays a multitude of dinosaur remains excavated from the local area.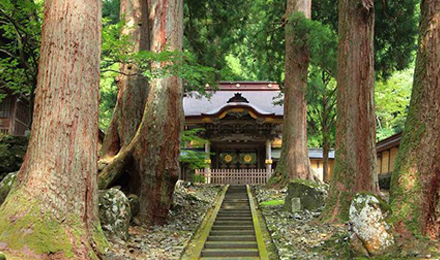 "I enjoy living in Hokuriku because it has given me the opportunity to experience a side of Japan often unseen by standard travelers. It is beautifully historic and traditional, where you can enjoy both the comfort of the city and rural local countryside."
- Kendra (Canada), Kanazawa Ekimae instructor
Sports
With the Tokyo 2020 Olympics just around the corner, you will find the energy of Japanese sporting culture reaching fever pitch in the next few years.
View or participate in all varieties of sports and sporting events in Hokuriku. Enjoy traditional Japanese sumo, local marathons, and play a few rounds of golf at local country clubs. Wave your flags and show your support of local soccer and baseball teams.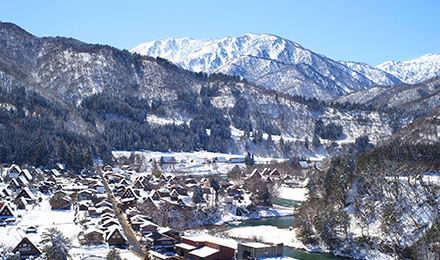 Most of all, enjoy a perfect winter on the crisp, white snow of a multitude of ski resorts. Hokuriku is the perfect location for skiing, snowboarding, and other winter sports. The Tateyama mountain range in Toyama is littered with ski resorts, with slopes of all levels of difficulty. Some ski resorts in the Hakusan mountain area of Ishikawa start at over 1000 meters in altitude.
"Kanazawa is a city fueled off a diverse line of cultural traditionalism and tourism interest. If living here has taught me anything it is to venture off the beaten path, take a step away from the more known cities of Japan and into a more idyllic environment."
- Thomas (Canada) – Al Plaza Kanazawa instructor
Food
The location of Ishikawa, Toyama, and Fukui blesses the Hokuriku region with some of the freshest cuisine in Japan. Seafood a specialty of the region. Dishes such as Hegi Soba (buckwheat noodles), Hotaru-ika (firefly squid), Jibu-ni (sliced duck meat served with shitake mushrooms) are some of the most beloved dishes of the region. However, it is the fresh fish used to make the most delicious sashimi and sushi that brings people to the area. Steamed crab and crab sashimi are the highlight of fall.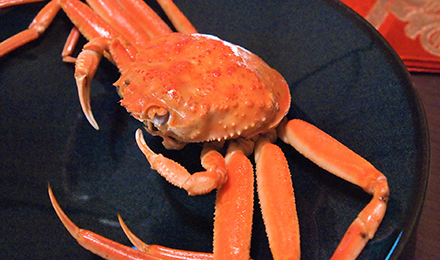 Festivals
Festivals are the lifeblood of the Hokuriku region. All times of year, Ishikawa, Toyama, and Fukui have some of the most interesting and exciting festivals in Japan, each reflecting unique historical and modern influences.
While attending the Gongo Festival in Toyama, watch muscular men carry wooden logs while battling to strike a bell as many times as possible in one minute. The Hyakumangoku Festival in Kanazawa at the beginning of Summer is a major highlight of the whole region. Warriors in traditional wear parading down the street, locals wearing kimonos and traditional tea ceremonies. You will be amazed to see lanterns floating down the Asanogawa river. The Mikuni Festival in Fukui is the largest festival in Hokuriku. Large firework displays, taiko drumming, and precessions of traditional warriors and maidens.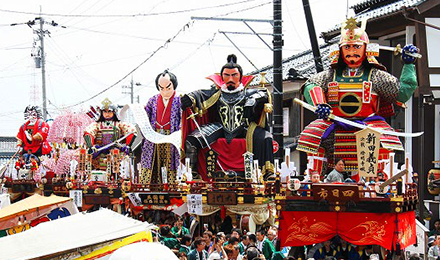 "Hokuriku is a place of balance. Urban centers with distinct character and a rural breadbasket full of traditional foods, festivals, temples, and nature. The Japanese Alps, temples, hot springs and world heritage sites. Since coming here in 2004, I've never wanted to be anywhere else."
- Matthew (United States) – Komatsu instructor