Chugoku
The Chugoku Area is the heartland of Honshu, Japan's main island. It includes Okayama and Hiroshima prefectures. On the south is the Seto Inland Sea, known as the "Adriatic of the East" for its numerous picturesque islets. The region is also famous in Japan for its fair weather, with more sunny days on average than any other region, and for its safety, being free of major fault lines and shielded from typhoons by Shikoku to the south and Kyushu to the east. Its central location in Honshu allows for easy access to Kansai, Fukuoka, and Shikoku, so it's the perfect place for those wishing to experience a wide swath of Japan.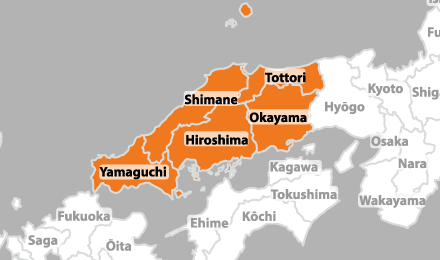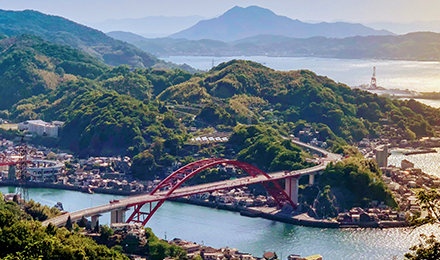 "The teams of staff and instructors at the branches in Okayama, Kurashiki, and Hiroshima are full of talented, hard-working folks dedicated to providing the best level of service to our customers. We enjoy working together in an idyllic setting that affords the comfort of urban life without the cost of a megalopolis. Beautiful natural locales along the coast and in the mountains are only a train ride away, so there are plenty of places to go for day trips. Whether you like shopping, cycling, sightseeing, or even skiing, you'll be able to enjoy a full life here."
- David, Instructor Support Manager
"Okayama is a wonderful mix of rural and urban life. There is no shortage of traditional places to visit while still having the modern comforts we've come to appreciate. Okayama is known for its fruit. There are a lot of farmers here, so fruits and vegetables are plentiful and affordable. Public transport can take you almost anywhere if you can't drive."
- Shawn, Okayama, instructor
Major Cities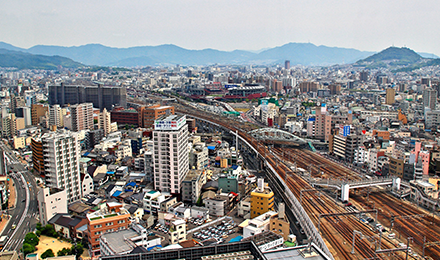 Okayama City, with a population of around one million people, is the location of Korakuen, one the three most beautiful gardens in Japan. Traditionally, the area is also famous for producing rice, grapes and peaches. The climate is warm year-round, with typically only a dusting of snow in winter. The relatively flat geography of the region makes for a spacious, relaxed atmosphere.
Kurashiki, which lies just to the west of Okayama City, is a beautiful town with a rich history. Originally, it was an imperial outpost responsible for collecting and shipping rice from the region back to the capital. The white walls of the old Bikan district take you back into the 1850s. The crown jewel of the district is the internationally renowned Ohara museum of art, which boasts a collection of old masters that rival those in Europe.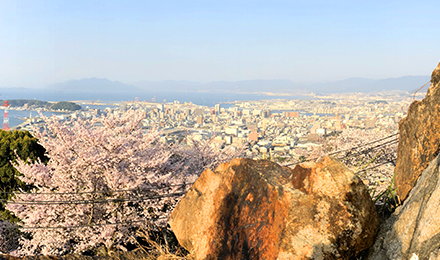 "Hiroshima is the perfect sized city. Not too big and not too small!"
- Joanne, Hondori instructor
Hiroshima City, notorious as the location of the world's first atomic bombing, has arisen from the ashes to become a testament to the will of the human spirit. Although it was feared that the area would never again be habitable, today it is a safe and bustling metropolis. Hiroshima has the amenities of a larger city without the crowds or hustle and bustle. It boasts two world heritage sites: the Peace Park, a tribute to the city's commitment to striving for a world free of conflict; and Miyajima Island, known for it's 12th century shrine and tame deer. The floating torii gate is a quintessential symbol of Japan.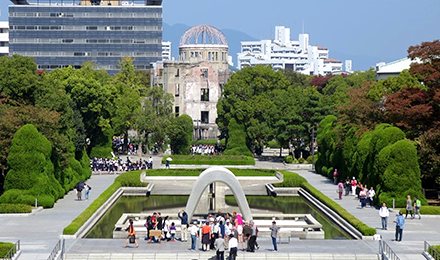 "If you like a city without chaotic public transport, then come to Hiroshima. It has something for everyone: great restaurants, history, sports, nature, nightlife. The NOVA school is slap bang in the heart of the city with a great atmospheric buzz at work. You won't regret Hiroshima for either living or working."
- Greg, Hondori instructor
Food
Okonomiyaki, a cabbage and pork pancake topped with noodles, a fried egg, and a sweet, savory sauce, is the soul food of Hiroshima. Neighborhood restaurants each serve up their own take on this iconic dish. It is remarkably tasty and loved by visitors and locals alike.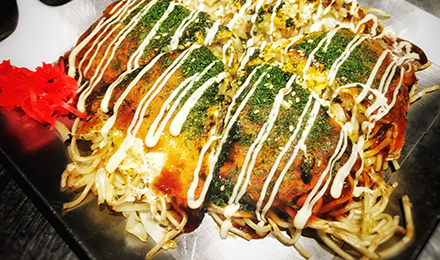 Seafood lovers will enjoy the oysters produced around Hiroshima, while Okayama is known for octopus. The Seto Sea is full of fresh fish that show up seasonally in local supermarkets
The white peaches of Okayama are exceptionally sweet and juicy. While top-grade specimens fetch a premium price, in late summer residents can enjoy those sold in local supermarkets and fruit stands. Muscat grapes grown in the vineyards north of Okayama City are likewise bursting with flavor. When students tell you that they had fruit for dessert, you'll know what they mean!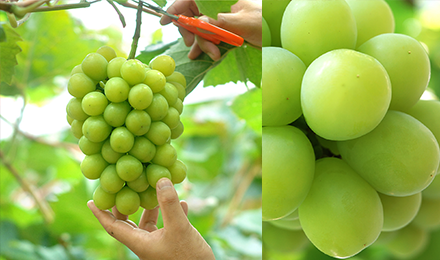 Outdoors
Whether you like hiking, cycling, skiing, or camping, the Chugoku region has something for everyone of an outdoors persuasion. The slopes north of Hiroshima are a bus ride away. If you're into hiking, why not try the courses at Sandankyo Gorge or hike up scenic Mt. Misen? Further North Mt. Daisen towers over the landscape at 1,729m and Mt. Hiruzen comes in close behind at 1,202m.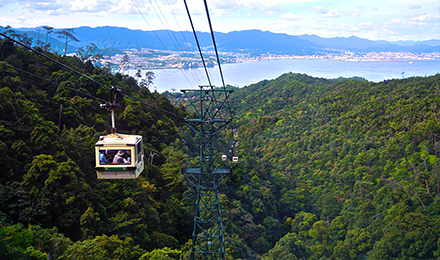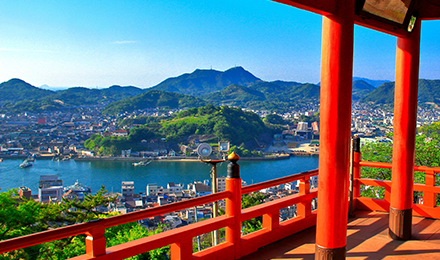 "For those that like skiing, Hiroshima Prefecture has the largest number of resorts of all the surrounding prefectures. People come from as far away as Kyushu to hit the slopes. I generally go seven or eight times a year; there are lots of bus tours from Hiroshima Station."
- Andy, Hondori instructor
For cyclists, Okayama offers the Kibi trail and, in Hiroshima, the Shimanamikaido seaway offers an exhilarating view of the coastal islets.
"Great place! Many sunny days to go and exploring the beautiful countryside and the islands of the Seto Inland Sea."
- Murray, Okayama instructor
Travel
Okayama and Hiroshima are major stops on the Sanyo Shinkansen, making Kyoto, Osaka, Kobe and Fukuoka easily accessible in around an hour. Shikoku, Kyushu, and Korea are accessible from Hiroshima Port, so the area is an excellent starting point for wider journeys.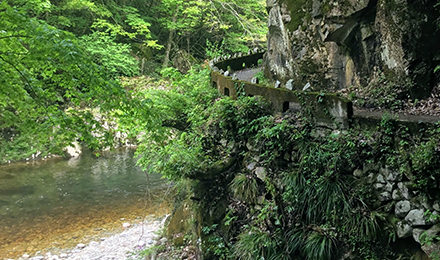 Bus, rail, and streetcar service provide easy ways to get around town without a car, and the metroplexes of each city are traversable by bicycle. With so many options, you can get to know the locale at your own pace, and on day trips, you can experience a new place each week.
"I enjoy living in Okayama and visiting the beautiful Korakuen Garden and castle, as well as eating delicious local fruits. The Shinkansen station makes travel to world heritage sites in Hiroshima and Kyoto easy on days off."
- Annie, Kurashiki instructor
Moving farther afield, you can make it to Tokyo by either the bullet train or a discount flight, and Hokkaido and Okinawa are not out of range for a longer excursion. Both cities have regional airports that allow for easy access to destinations nationally and around Asia or flights home at the holidays. Taiwan, Thailand, and Korea are possibilities as well if you are willing to part with airfare.
Shopping
Hiroshima and Kurashiki have outlet malls with a variety of popular brands at reasonable prices. Hiroshima also boasts a CostCo wholesale retailer for those who want a taste of home, and there are numerous import shops for when you decide to eat in on Taco Tuesday. There are also numerous local shopping centers and quaint covered arcades. For those seeking handmade crafts and traditional goods, the boutiques in Kurashiki offer a wide variety of local wares including blue jeans, which are of famously high quality in Okayama.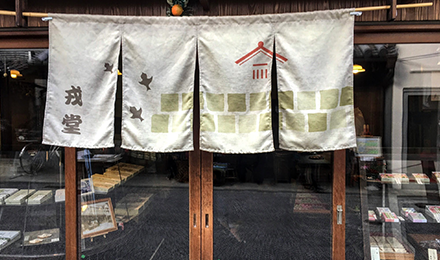 History and Culture
The Bikan Historical Quarter in Kurashiki retains the feeling of Edo Era Japan, with it's white-walled storehouses. Ivy Square, a cotton mill turned hotel, is just one of the Meiji Era buildings that harken back to the European stylings of the Meiji period. The Achi shrine atop Tsurugata Mountain dates to the 8th Century. The shrine is home to a wisteria tree believed to be 300 to 500 years old. There are several historic homes that can be toured. Local craftspeople have individual galleries. Their unique pieces make the perfect memento of Japan. There are also gondola rides to be had on the canal. It's great place for a stroll, a jog, or a date.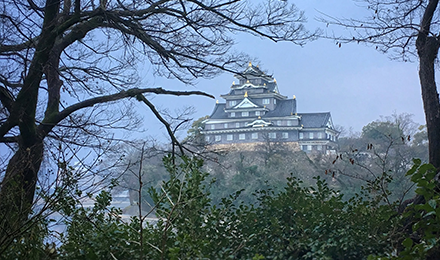 Korakuen Garden in Okayama is a 17th Century work of topiary genius, which has earned a three-star rank from Michelin. Each season offers new opportunities to appreciate the flowers and greenery of Japan. In Spring, plum and cherry blossoms awe, followed by peonies, lotus flowers, camellias daffodils, and Japanese maples. The garden is also famous as a refuge for endangered Japanese cranes, which are released at New Year Day in a special ceremony.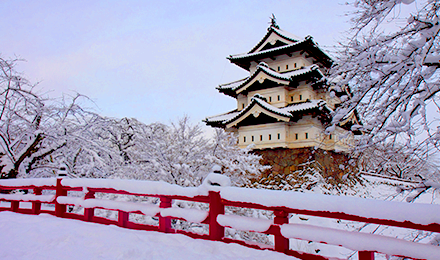 Hiroshima is home to two UNESCO World Heritage sites.
The Peace Park and Peace Memorial Museum is a lasting legacy to the victims of the atomic bombing and a stark reminder of the inhumanity of nuclear arms. The artifacts and stories housed in the museum provide an inspiring look into the will to survive and common purpose of the people of Hiroshima. The Atomic Dome has become a symbol of perseverance for the city and the world.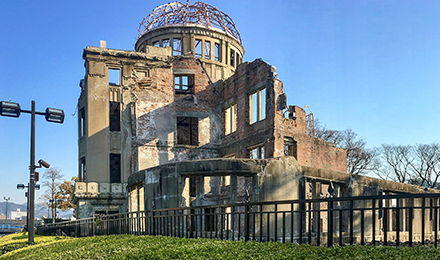 Entering the sacred space of Itsukushima Shrine on Miyajima Island is the perfect way to step back from the stress of everyday life and appreciate the beauty of Hiroshima's landscape and culture. You can feed the deer and walk out under the Tori Gate at low tide. Cruises around the island are also popular. In mid-July, a spectacular fireworks display is launched from the harbor, and the Japanese Maple Valley is a must-see in Autumn.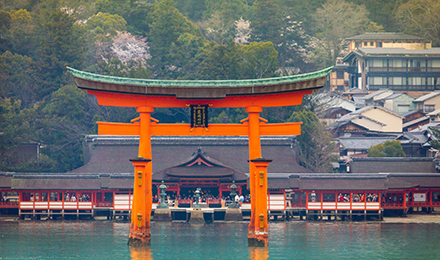 Sports
In Japanese pro baseball, the Hiroshima Carp took the Central League Pennant in 2018 for the third straight year. Enjoying a game at Mazda Zoom-Zoom Stadium with their legions of fans is quite an experience! The stadium is within easy walking distance of Hiroshima Station, and tickets are reasonably priced.
Sanfrecce Hiroshima, a J1 league soccer club, is likewise top notch, having taken home the Division 1 Championship in 2011 and 2012. A shuttlebus from Yokogawa station is available to get supporters to Edion Stadium, where the team play home games.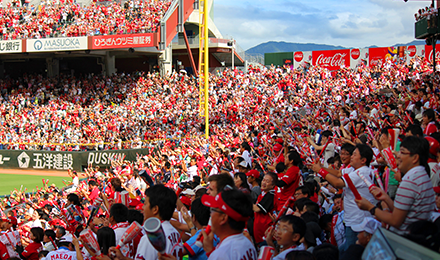 Hiroshima JT Thunder and the Hiroshima Dragonflies, the pro volleyball team and pro basketball team respectively, also play regular games. Some of the players on the Thunder are students at Hondori school, so you can meet them off court as well.
In Okayama, instructors cheer on Fagiano Okayama, the local Division 2 soccer club at City Light Stadium, a short train ride from Okayama station. The Okayama Seagulls also put on pro volleyball matches.
Festivals
Japan is a land of festivals, and the Chugoku Region is no different. Feel the excitement of the local community and the pounding of the drums at these fantastic spectacles.
Okayama celebrates its folk hero, a warrior born from a peach named Momotaro at the Momotaro Festival in August. It is famous for the Uraja, or demon dance.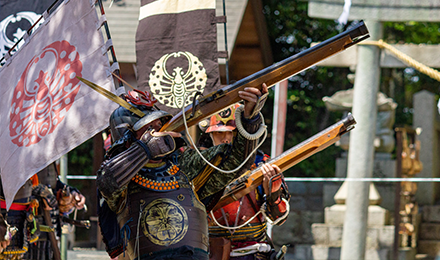 As a test of bravery, men gather at Saidai-ji Temple to participate in the Hadaka Matsuri, or Naked Festival. Participants (men only) strip down to loincloths on the grounds of the shrine in mid-February and join the throng in a drunken, no-holds-barred struggle to win a sacred scepter.
In Hiroshima, the month of May brings the Flower Festival, which is held over Golden Week. There are concerts, events, performances, and dances held on the Peace Boulevard. The event draws a over a million visitors yearly to celebrate spring and pray for peace on earth.
In addition to these tent pole events, small local festivals are held several times a month year-round. Each local area holds New Year festivities in January, cherry blossom festivals in spring, fireworks display in midsummer, moon viewing festivals in Autumn, and harvest festivals to round out the year. Participating is a great opportunity to make friends, sample local delicacies, and become part of the local community.