Chiba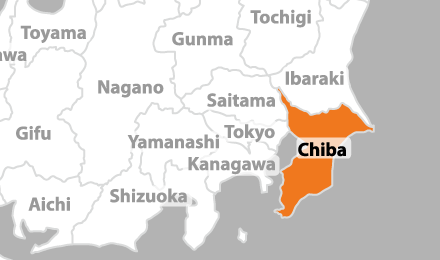 "Living and working in Chiba is a good way to have a really meaningful experience in Japan. Looking forward to meeting you here!"

– Emily, Chiba Instructor Support Manager
With the benefit of both affordable (cheaper) living and a short train ride to Shinjuku Station. Chiba provides the relaxed day to day life style only minutes away from the hustle and bustle of Shibuya Crossing.
Come and find the local hole-in-the-wall izakayas (Japanese style bars), live out your childhood dreams at Tokyo Disneyland and Tokyo DisneySea; and if you're more of the nature loving type, there are plenty of hiking trails and hidden gems to find that are really worth exploring.


Above: Spend your day off in Kimitsu visiting Nomizo falls, a hidden treasure that feels as though you've stepped into a Ghibli movie.
Highlights
Tokyo Disneyland & Tokyo DisneySea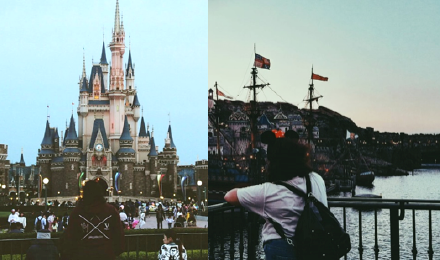 Above left: Tokyo Disneyland • Above right: Tokyo DisneySea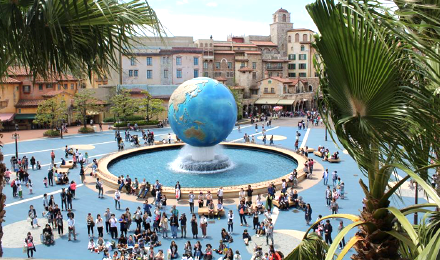 Above: Onlookers watch an orchestra as they are welcomed to Tokyo DisneySea.
Where dreams literally come true! Only 25 minutes from Funabashi station, spend the day at Tokyo Disneyland with countless characters from your favorite films, or try something more adventurous at Tokyo DisneySea (the only one in the world).
Summer Sonic Music Festival
One of the biggest music concerts in Japan, held simultaneously in Chiba and Osaka, lasting for 2 days and nights of epic summer fun. The concert takes place across two stadiums in Kaihinmakuhari.
Past famous acts include: Foo Fighters, Black Eyed Peas, Radiohead, G-Eazy, Kendrick Lamar, Marshmello, Five Seconds of summer and many more!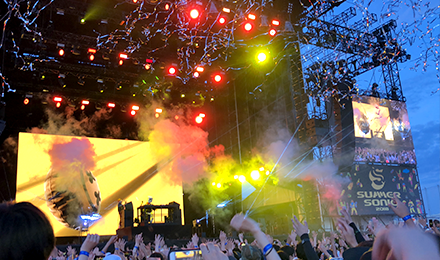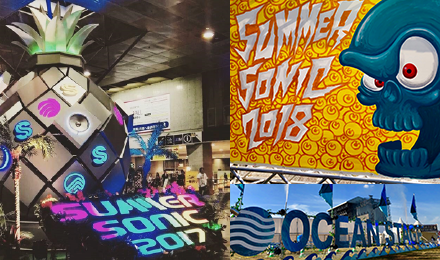 Sand, Surf and Stunning Views

Located in the south of Chiba and famous among local surfers, Kyujukuri is one of the most famous beaches in Chiba prefecture. It's a great place to go for a day trip or hire a beach house for a couple days during the summer. Don't forget to bring your surfboard!
Other beautiful beaches include:
Ubara Beach
Okitsu Beach
Katsura Beach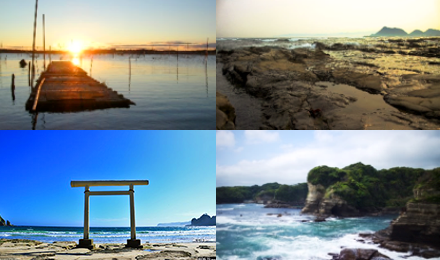 Nokogiriyama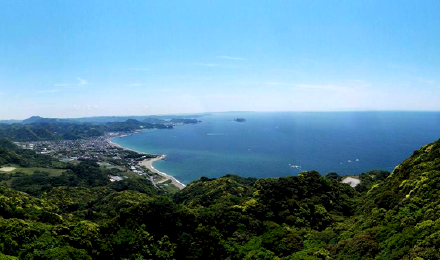 Above: View from the summit of Nokogiriyama.
One of the most famous mountains in Chiba. Ride the gondola to the top, or take a short 90-minute hike to some stunning views of Tokyo Bay.
Christmas Festivities
The Christmas lights are so magical. All over Japan you can see stunning illuminations. In Chiba, the German Village is the best place to celebrate Christmas, and see colorful tulips in spring.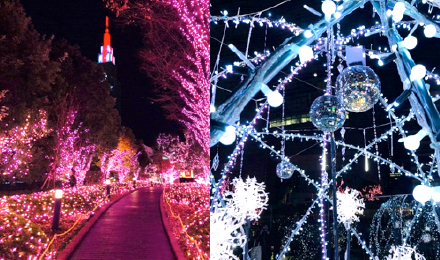 Festivals
Immerse yourself in Japanese culture!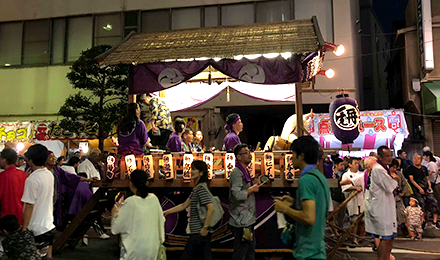 Festivals happen all year round. The most famous ones tend to be held during the summer and New Year. Food and drink stalls line the streets while traditional music is played, and dancers and participants shouldering portable shrines parade through the town. Many festivals end with an impressive display of fireworks.You have to check out:
Kaihinmakuhari Fireworks Festival
Kisarazu Fireworks Festival
Funabashi Summer Festival
Kashiwa Summer Festival
Narita New Year Festival
Daijingu, Funabashi New Year Festival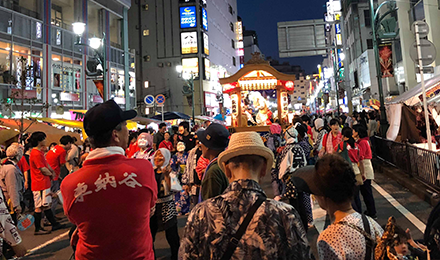 Temples, Shrines and Castles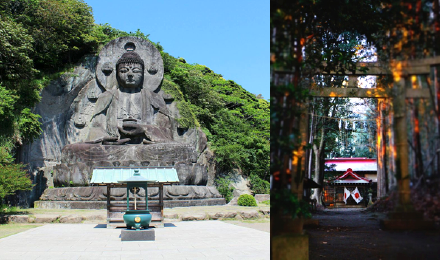 Above left: Nokogiriyama giant Buddha.
• Above right: Torii Gate, seen at the entrance of shrines.
There are many temples and shrines in Chiba providing a calm and peaceful atmosphere among (or away from) the busy city streets.

Above: Narita-san Temple.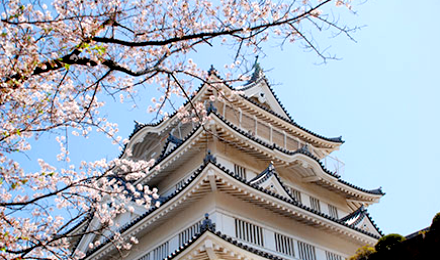 Chiba castle is another hot spot to visit. Most well-known for its beauty during cherry blossom season. A sight you'd hate to miss.
Food and Drink
Affordable, delicious and healthy (usually), are just some of the words that spring to mind when thinking about food and drinks in Japan. Pictures are worth 1,000 words, so eat your heart out:
"There are lots of great places to eat and drink, but the prices are cheaper than in Tokyo!"
- Adrian (UK), Kaihinmakuhari instructor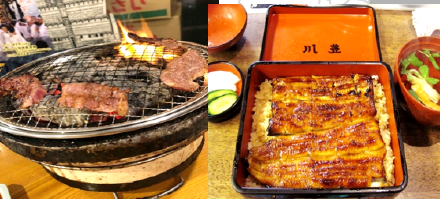 Above left: Yaki-Niku (Korean-styled BBQ). • Above right: Famous Narita-san Unaju (grilled eel on rice).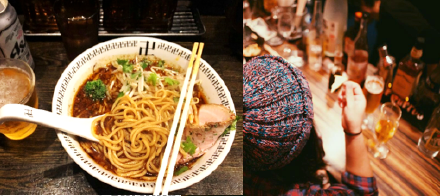 Above left: Pakuchi Ramen (Spicy coriander noodles). • Above right: Local watering hole.
Sports
For all you sports fanatics out there, you can either make it at the races in Funabashi, hit a home run with the Chiba-Marines or bend it like Beckham with the Kashiwa Reysols.
Whether it's baseball, soccer or even a bit of tenpin bowling; sports and other fun activities are in full supply here in Chiba.
Chiba-kun
Every prefecture in Japan has a mascot. A fun character often relating to something in that area. Ours happens to be called Chiba-kun: a friendly red dog shaped like Chiba prefecture.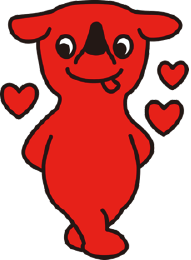 Here's what some of our instructors have to say about Chiba:
"Not so crowded, reasonably close to Tokyo but also the beach (Katsura Beach)"
- Charles (USA), Chiba instructor
"I've taught in many branches in Chiba, and my students and coworkers in all those branches have been lovely. Outside of work, Chiba has good shopping, nice restaurants, and interesting places to visit (including Tokyo Disneyland and Kamogawa Sea World) and is close to Tokyo. I live in the quiet countryside but am only one hour away from downtown Tokyo and only 15 - 20 minutes away from the lively cities of Kashiwa and Funabashi. It's the best of both worlds!"
- Mark (NZ), Chiba instructor
"The surf is decent. There are also some nice courses for the avid golfer."
- Colin (AUS), Chiba instructor
"I love living in Chiba, everyone is so kind and friendly. It's only minutes from Tokyo which is where most embassies are, so it's really convenient if you need to renew your passport or anything like that. It's a lot more affordable than some other areas, and places like Yokohama, Kamakura, Takao Mountain and Saitama are really close by."
- Emily (NZ), Instructor Support Manager
Near Chiba
Chiba is best known for being an extremely convenient place to live as there are so many other prefectures surrounding it. Chiba is also home to the country's MAIN international airport (Narita, NRT), so why not book a short trip to one of our neighboring countries while you're here?

Above (left to right): Shopping Mall entrance and Meiji Shrine, Harajuku, Tokyo. 40 mins from Chiba.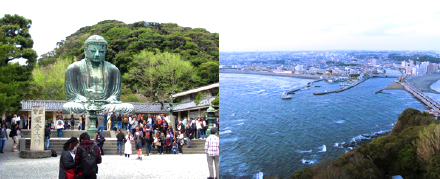 Above (left to right): Giant Buddha in Kamakura and view from the top of Enoshima Island, Kanagawa. 1 hr 30 mins from Chiba.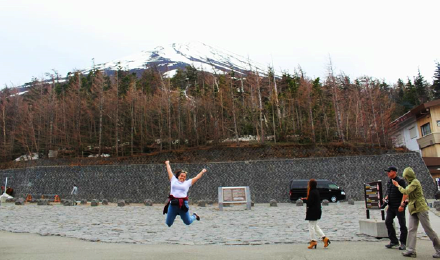 Above: 5th Station of Mt. Fuji, Shizuoka. 1 hr 40 mins from Chiba.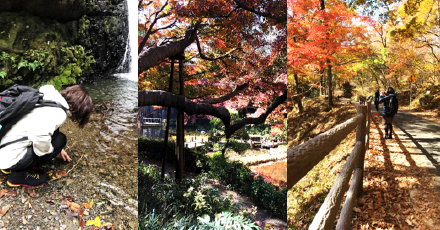 Above: Gazing at the autumn leaves and chasing waterfalls, Gunma. 2 hrs 17 mins from Chiba.

Above (left to right): Views of Tokyo and a temple from a top Takao mountain, Tokyo. 1 hr 25 mins from Chiba.