Locations - Kansai: Osaka
Osaka
Osaka is the second largest city in Japan with a population of around 19 million people. It is part of the Kansai region which covers a broad area including the neighboring cities of Kobe, Kyoto and Nara. The Kansai region displays a rich blend of the individual characteristics of the areas surrounding it. People from Osaka and Kansai are regarded as outgoing and enjoy festivals and entertainment.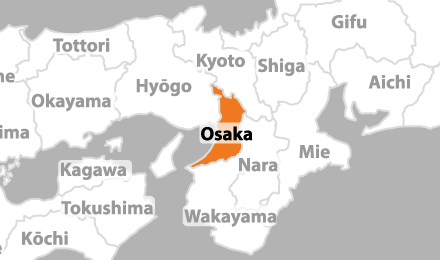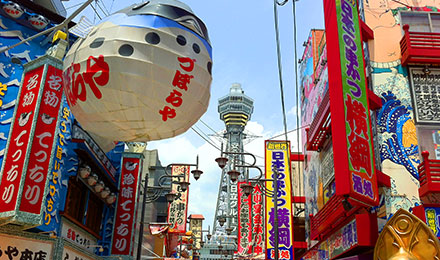 I absolutely made the best decision to live and work in Osaka. Osaka's close proximity to other amazing places, such as Kyoto, Nara, and Kobe, make it convenient to spend days off exploring places that feel so far and unique. Osaka is a cosmopolitan city surrounded by gorgeous nature. There's plenty of excitement, delicious food, culture, and the friendliest residents you'll meet anywhere in Japan. My favorite places are the quiet neighborhoods in the south of the city. You make new friends everywhere you go!
- Emily H, Instructor Support Manager
Comedy
It is said that Osaka comedians are the best. Their outspoken nature makes the experience enjoyable. Yoshimoto Kogyo is one of the most famous talent companies and is responsible for pioneering Japanese Manzai (Stand-up Comedy) acts such as the nationally popular 'Downtown'. The company's theater in Namba regularly holds showcases and events. In recent times, manzai has often been associated with the Osaka region, and manzai comedians often speak in the Kansai dialect during their acts
Attractions
Rising high above the expansive park and grounds is a symbol of the city, Osaka Castle (Osaka-jo). The castle, now a replica, houses a museum and has an impressive panoramic view from the eighth floor. The park surrounding the castle is vast, beautiful and a must see. You can often find bands and street performers showing off their skills. International events from various countries and cultures are held, as well as concerts in the Osaka Concert Hall sitting right next to it. Osaka Castle is one of the most picturesque locations to view cherry blossoms in early April.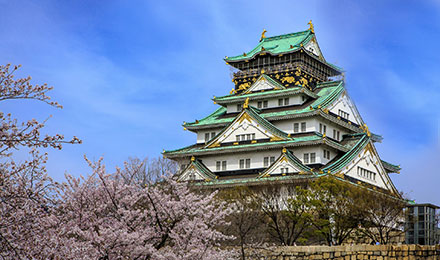 Step into the dreamlike world of the silver screen at Universal Studios Japan. From classic rides and attractions, such as Jaws and Jurassic Park, to Hello Kitty wonderland and the Wizarding World of Harry Potter, there is sure to be something to entertain everyone. There are also many amazing parties throughout the year, including a great New Year party and fancy-dress Halloween night. The Halloween event is unmissable with hordes of zombies taking over the park and your favorite characters dressing up in spooky costumes for the occasion – don't miss the other events such as Christmas and the likes. The place literally bursts with energy during these times.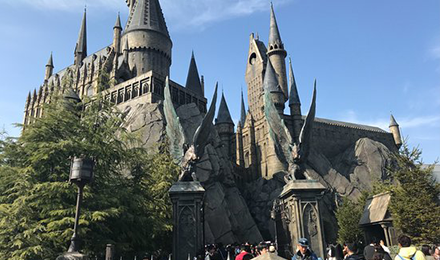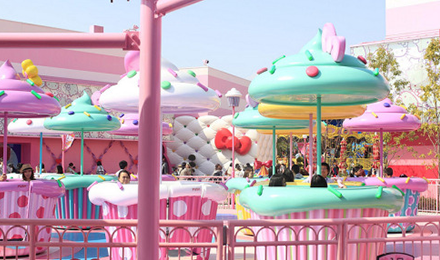 Kaiyukan
Next to Osaka Bay, you can find one of the largest aquariums in the world, the Osaka aquarium, Kaiyukan. With ten different areas, 15 large tanks, and around 30,000 creatures and 620 species all under one roof, you can travel the seven seas without ever having to leave Osaka. A great place for families and any nature lover. It boasts animals from sea lions and penguins, to whale sharks!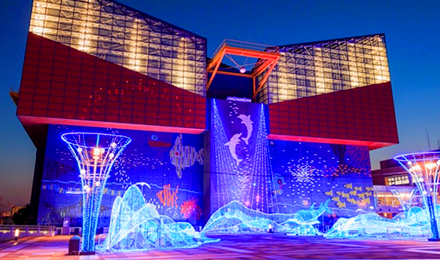 Shopping
The Umeda area in the north of the city and Namba in the south are Osaka's two largest shopping districts. Standing in the shadow of the the Umeda Sky Building, you will find excellent shopping in and around the huge JR Osaka Station City. Major department stores and international brands abound in a sea of high rises. Housing over 150 specialty stores and restaurants, the HEP Five shopping centre is one of Osaka's best known shopping and entertainment complexes, and when you've had your fill of retail therapy why not sit back and take in the views from the iconic red ferris wheel on the roof!"
In Namba you will find everything from international and Japanese brands to independant youth and discount stores. The Namba Parks shopping mall covers several city blocks and is designed with an 8-level rooftop garden complete with waterfalls, canyon, lawns, rocks, ponds and outdoor terraces. There's even an outdoor amphitheatre for events and a personal vegetable garden area. Underneath all of that is a vast retail expanse containing stores, entertainment areas and dining venues.
Amerika-mura (American Village) is the city's best known center for youth fashion and contains hundreds of small, inexpensive boutiques, and also home to numerous music venues, clubs and bars.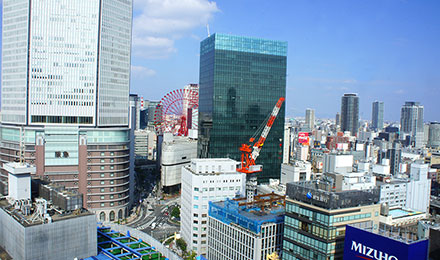 Umeda
Standing at 300 meters, the recently opened Abeno Harukas is the tallest skyscraper in Japan. The 60 floor building stands on top of Kintetsu Abenobashi Station and is just across from JR Tennoji Station. It houses the Kintetsu Department Store on the lower 16 floors which boasts over 100,000 square meters of retail space making it the largest department store in Japan. 44 restaurants cover 3 floors serving food from all over Japan along with some international options. Harukas also houses an art museum, the 5 star 360-room Osaka Marriott Miyako Hotel, a roof garden terrace on the 16th floor and the "Harukas 300" outdoor observation deck on the building's top three floors (floors 58 to 60). The 60th floor observation deck offers amazing 360 degree panoramic views of the city and beyond!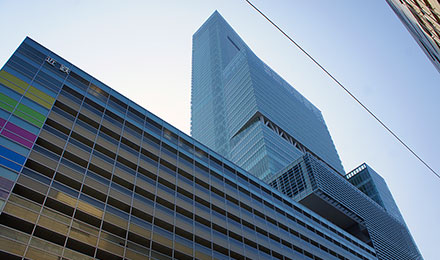 Abeno Harukas
ExpoCity and Banpaku Kinen Koen
Osaka was chosen as the site for the 1970 World Exposition. The main theme was Progress and Harmony for Mankind. Since the completion of the original expo, the grounds were converted into the Expo Commemorative Park, which is lined with grass, trees and open space to enjoy picnics, sporting activities, and much more with friends. It is of the best and most popular places to go Cherry Blossom viewing with over 5000 cherry trees.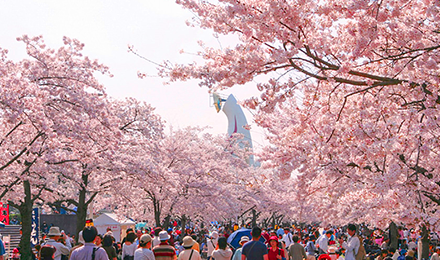 Situated a simple brisk walk from the park you can find the more recently opened shopping and entertainment complex, called Expocity. It was opened just outside the park's main gate, next to the Osaka monorail station. The mall is a 3-story indoor shopping center with over 300 stores, selling an assortment of Japanese and international brands including fashion, luxury items, cosmetics, household goods and sports equipment and pet goods. There is also a food court and a restaurant zone. You will want to spend a day here once you find that the shopping mall is surrounded by several other attractions. Including the innovative Nifrel zoo-aquarium that features art-like displays and a design which was made to allow animals and humans to interact with one another; Orbi Osaka, a kind of virtual zoo and nature experience; Japan's largest Ferris wheel, (should you be brave enough to go on it,) and finally the ultimate IMAX Cinema featuring Japan's largest 18-meter high/26-meter wide laser screen and 4D theater!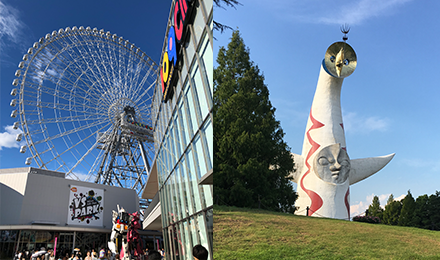 Nightlife - Dotonbori
Stroll along the canal and enjoy the hustle and bustle of Dotonbori. Bathed in neon lights, this neighborhood is sure to be familiar to any avid watcher of movies or TV shows. Take your time and explore the many restaurants and entertainment venues. With something for everybody, dance lovers will want to head over to the mega entertainment district of Shinsaibashi. From hip-hop to reggae to trance, there is surely a club that will suit your needs. Clubs will keep it going till the early morning but beware that the trains do not. If you miss your train, there will be plenty of cheap manga or internet cafes which serve private rooms for you to rest in until the first trains start again around 5AM.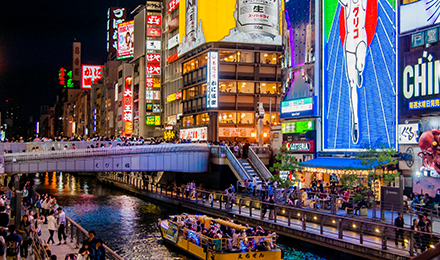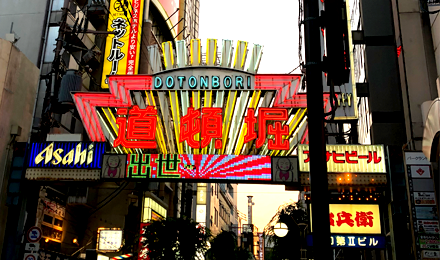 Sports
Baseball fans will be thrilled with the prospect of living in Osaka. While the Hanshin Tigers play a stone's throw away in Hyogo Prefecture, they are definitely Osaka's team. Their long history and rabid fans draw many comparisons to the Boston Red Sox. Or head on over to the Osaka Kyocera Dome to see Ichiro's former stomping ground and catch an Orix Buffalo game.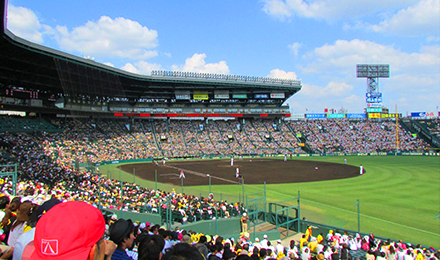 Soccer fans will be equally pleased with two top tier J League teams, Gamba Osaka and Cerezo Osaka. Catch a game at Cerezo's 50,000 seater Nagai stadium or Gamba's 40,000 seater Panasonic Stadium which opened in 2016. The Osaka Derby is one not to be missed with the rivalry being one of the fiercest in Japan. Best of all, it's just around the corner from Expo City.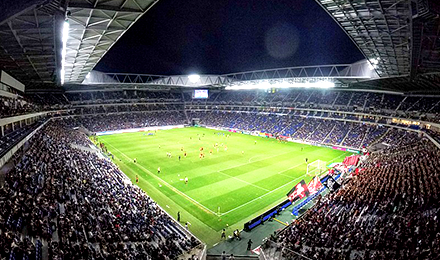 Put on your mawashi (sumo loincloth) and head over to the Osaka Prefectural Gymnasium to check out a sumo tournament. Each spring, the March tournament is held in Osaka and if you're a morning person you can catch the early exercises around the temples and shrines. Sumo wrestlers can often be spotted riding the subway and seeing the sights when they are in town!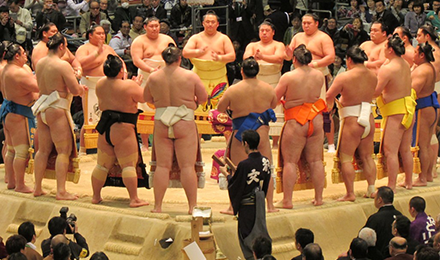 For those rugby fans out there, you can pop to Hanazono Rugby Stadium in Higashiosaka (the oldest rugby-designated stadium in Japan) or Misaki Park Stadium in Kobe, which is just around the corner, if you want to catch a game including the likes of Scotland, the Republic of Ireland, South Africa, England and the USA at the Rugby World Cup in 2019.
Museums
Japanophiles with a love of history will be in enamored with the ten-story Osaka Museum of History located near Osaka Castle. The museum offers displays and exhibitions in many different languages, with the top three floors devoted to hands-on exhibitions. So why not try wearing a kimono and playing Tosenkyo (a traditional fan throwing game)?
Check out underground (literally) art at the National Museum of Art, Osaka. This museum, which has one above ground floor and three basements, exs both Japanese and foreign contemporary art. Not many buildings can stake claim to being a museum as well as the site of the creation of a Nobel Prize winning theory, but Osaka Science Museum can do just that. This former part of Osaka University has many interactive exhibits, several demonstrations a day, as well as an Omnimax theatre.
Lovers of noodles can rejoice at the Momofuku Ando Instant Ramen Museum, dedicated to celebrating the creator of instant noodles and his lifestyle changing invention. Visitors have the chance to see a variety of exhibits, including a hands-on demonstration of the first instant ramen recipe as well as a make-your-own Cup of Noodles factory.
Food
If the price and atmosphere of Tokyo dining hampers your interest, then Osaka is the city for you. In the shogun era, Osaka was set up as the food capital of Japan and today this tradition continues with Osaka being known as the "nation's kitchen". Osaka is noted for its inexpensive, fast, cheap and filling food such as okonomiyaki (a thick pancake filled with cabbage, egg and seafood or meat, cooked on a hot plate at your table), takoyaki (small balls of batter-coated octopus that are fried and smothered in a tangy sauce and fish flakes), and kushikatsu (deep-fried meat, fish and vegetable skewers, again cooked at your table). In Osaka, both your stomach and wallet are sure to leave full.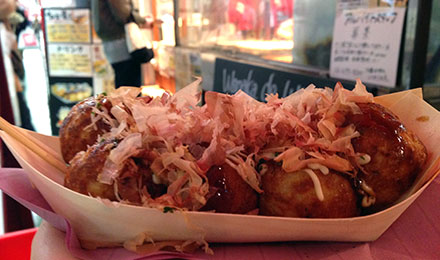 Sushi for breakfast? Clocking in at 320,000m2 is the Osaka Municipal Central Wholesale Market, formerly the largest market in all of Asia. Take a morning tour and visit the auction or explore, and if you are willing to be adventurous with what you eat, you'll find something fresh off the boat for your breakfast!
Culture
Designated a national treasure, the Sumiyoshi Taisha (Grand Shrine) is one of Japans oldest shrines, and has an amazing bridge situated at the entrance which people flock to during New Year to pray at. The shrine was so highly regarded that it begat a whole style of architecture for shrines named after it.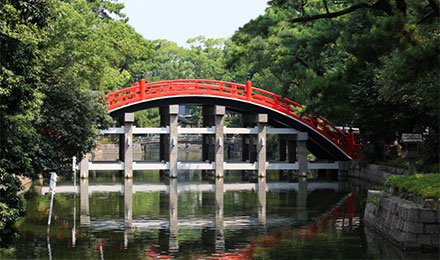 Enjoy the historic and serene atmosphere at Shitennoji Temple one of the oldest in all of Japan, dating back to the 6th century. The grounds also include a lovely garden and treasure house.
Japan is a land of many dialects and perhaps the most well known outside of the Tokyo area is Osaka-ben (Osaka dialect). Used throughout manga, movies, music, and books, this dialect is often used to reflect the humorous and outgoing characteristics of Osakans. Impress your friends and speak like a native as you greet them with "mookarimakka?" (Is business good?)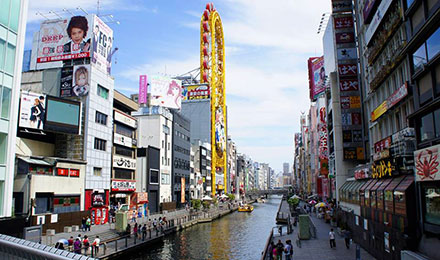 Festivals
Fireworks are an institution in Japan but the PL Fireworks Festival is truly a scene that can't be missed. With over 20,000 fireworks being set off, this is one of the largest fireworks displays in the world. A record number of people attend each year so be sure to grab the perfect spot as early as possible.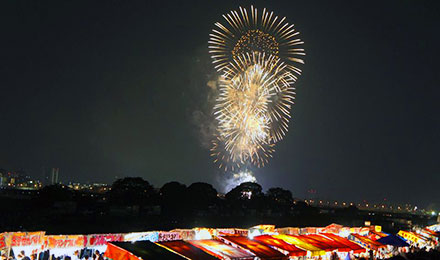 Check another of the three great festivals off your list as you enjoy the 1,000 year old Tenjin Matsuri. Watch as thousands of participants, dressed in imperial garments, march beside portable shrines and afterwards board one of the many boats to continue the procession.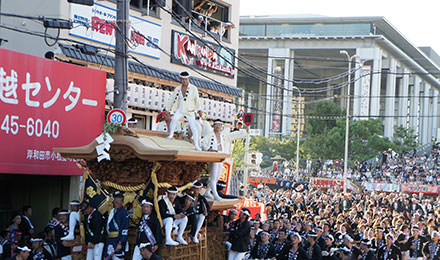 The Kishiwada Danjiri Matsuri, in the south of Osaka, is one of the most thrilling and spectacular festivals in Japan. This matsuri is characterized by 35 neighborhood guilds pulling their danjiri (floats) weighing up to 4 tons through extremely narrow streets at full speed, with guild-leaders skillfully hopping and dancing on top of the danjiri. The teams skid the floats using sheer brute force around incredibly tight corners and some of the floats are so large that they are pulled by up to 500 team members. These risky runs have been known to hit buildings and overturn as the competition heats up between guilds! In the evenings the danjiri are hung with paper lanterns and pushed slowly though the streets with children playing flutes, taiko drums and bells while the festival goers enjoy the wares from hudreds of street stalls.