Ibaraki
Ibaraki is in the Kanto region of Japan. It is a coastal prefecture located just northeast of Tokyo. The prefecture has a population of about 3 million people and the area is about 3 times larger than that of Tokyo. It is known for its beautiful natural landscapes, connections to the Japanese imperial family, and recently, as the high technology research center of Japan. People in the south of the prefecture commute to Tokyo as one of its major suburbs, and the northern part of the prefecture is full of untouched nature and traditional Japanese towns. Ibaraki is a wide open and dynamic prefecture that is home to many different kinds of people and many kinds of things to see, from ancient temples to the Tsukuba Space Center.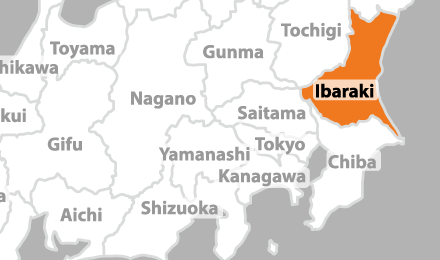 "Ibaraki is a great place to live because of its proximity to Tokyo, without the drawbacks of living in the crowded city. We get the convenient transportation, speedy shipping, and the well-known retail brands you'd expect of the metropolitan area. We can also enjoy the delicious, locally sourced food, natural scenery, and the long history that are unique to this area. Ibaraki has such a mix of places and people that everyone can find something they like here. At the schools in Ibaraki, we are a group that likes to have fun, and we all get together a few times per year for area parties. Everyone is also ready to help each other whenever they can, and we will make sure you will get everything you need for your new life in Japan!"
- Richard, Instructor Support Manager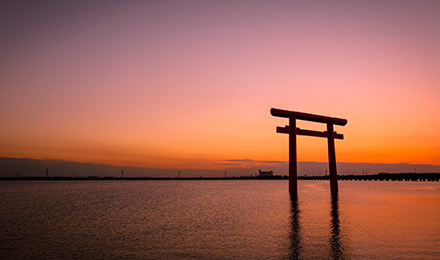 Tori Gate at Lake Kasumigaura
Ibaraki has all kinds of outdoor activities to keep you active and moving. Whether it be surfing, cycling, hiking, or golf, or there is something for everyone out here. Since Ibaraki is on the warm waters of the Pacific coast, surfing can be enjoyed around the year and throughout the whole prefecture. For days without waves, Ibaraki has a strong skateboard culture thanks to the wide-open areas and large stretches of concrete in the cities which make for a skater's paradise. And finally, though not for the faint of heart, Ibaraki boasts the highest bungee jump in Japan: 100m!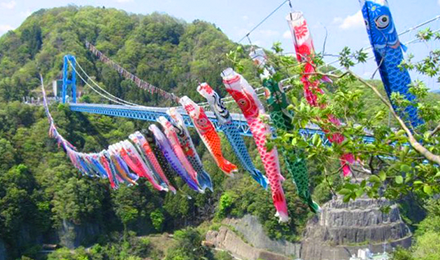 Ibaraki Ryujin Bridge Bungee
Everyone knows about Mito's famous food natto; that sticky bunch of fermented soybeans that you either love or hate. But there is a large variety of food produced in the prefecture! After natto, the second most well-known food from Ibaraki is perhaps sweet potatoes which are eaten roasted or dried and have a nice sweetness even when eaten plain. The Pacific Ocean gives a ton of sushi and other great fish, with the anglerfish and sweet fish being the most famous in the area.
Ibaraki also has a strong agricultural industry meaning that you can get pretty much any fruit, vegetable, or other crop locally sourced and for a much lower cost than most places in Japan.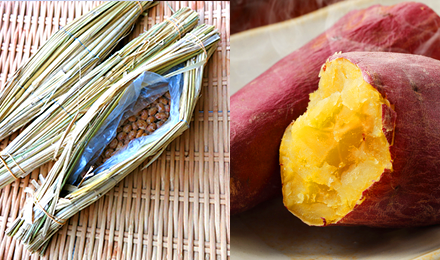 "I enjoy teaching in Ibaraki! It's a nice change of place from the hustle and bustle that is Tokyo. If you enjoy nature, there are many places to visit and enjoy the scenery such as Hitachinaka Seaside Park, Fukuroda Falls in Hitachi-Daigo, Ryu Jin Dai Suspension Bridge in Hitachi-Ota, and of course Mount Tsukuba. In Mito, I enjoy walking around Lake Senba, where the view is breathtaking at night. Mito is a great mixture of city and country life."
- Kecia, Mito Instructor
Ibaraki is home to a huge amount of nature and history that draws people from around Japan and around the world.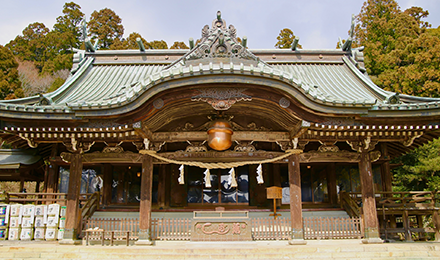 Tsukuba shrine
The most famous sight to see is probably Kairakuen Park in Mito that has a large variety of traditional Japanese plants, with the highlight being the plum trees which were planted by the imperial family to make a green space for all to enjoy.There is also a large national park in Hitachinaka that brings thousands of people throughout the year to see the stunning baby blue eyes flowers in spring and the vibrant red kochia plants in the fall.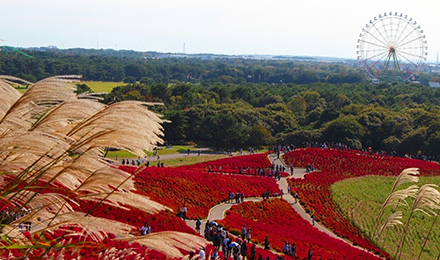 Hitachinaka Seaside Park
The southern part of the prefecture has the Ushiku Daibutsu which is the largest statue in Japan, and one of the largest in the world. Locals often compare his pose to that of a video game or anime character, as he looks as if he is ready to shoot a beam of energy from his hands! Visitors can ride an elevator to the viewing gallery at 85m, from where there are incredbile views on a clear day as far as the Tokyo Skytree.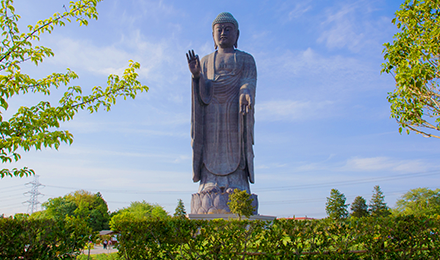 Above: Ushiku Daibutsu (牛久大仏)
For fans of outer space and future tech, there are the Tsukuba Space Center and the Tsukuba Robotics Center. Tsukuba is on the cutting edge of technological research, and many of our students at Nova are at the forefront of these areas. Heading to the northern part of the prefecture are the beautiful Fukuroda Falls which are nestled next to the traditional Japanese town of Daigo, famous for soba noodles, apples, and the many nice hot springs in the area. From cities and science to shrines and surf, the prefecture has something for everyone.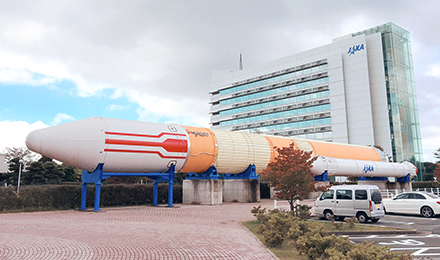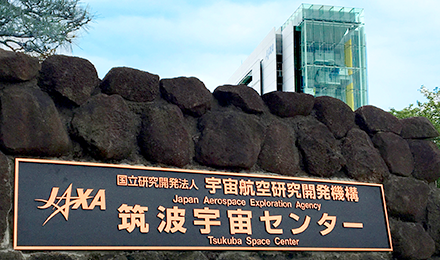 "Ibaraki is a great place to live and work. There are a lot of great spots to visit, plus there is convenient transport to take you to Tokyo on your days off."
- Joe, Mito Instructor
The annual Kairakuen Plum Festival from mid-late February is perhaps the biggest event in the prefecture. Thousands of people come to Mito to view the stretches of plum trees blooming in magnificent pinks and white.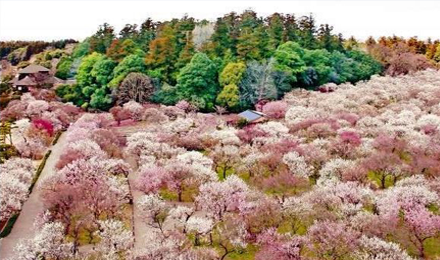 And if you are after a more exciting spectacle, the Mito Kōmon Festival in August is for you! It is certainly the grandest summer festival in Ibaraki; it celebrates the imperial history of the region at the height of summer with music, dance, and fireworks. Finally, for another one of Ibaraki's claims to fame, is the Tsuchiura All Japan Fireworks Competition. Every first Saturday of August, the major fireworks companies show off their latest and greatest inventions in one of the big 3 fireworks displays in Japan.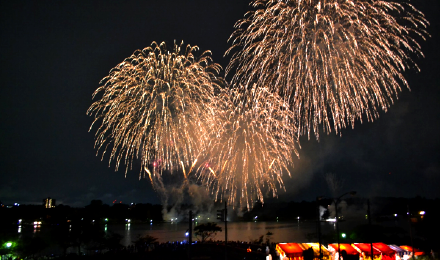 If you love rock music and don't mind the heat, you can join 50,000 other people over two weekends in August to enjoy the rockinest bands from around Japan and around the world. Rock in Japan is a huge festival with multiple stages, a campground, and an awesome atmosphere that brings together people and their desire to rock! Each year has brought more visitors and more bands, and it is the perfect way to spend your summer break.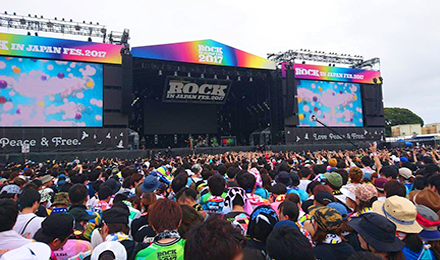 Sports are also a huge part of Ibaraki's culture. The prefecture is home to the Kashima Antlers who are the most successful J1 soccer team in Japanese history. They are the pride and joy of the prefecture, and Kashima Soccer Stadium is preparing to host many games at the 2020 Tokyo Olympics as well. And if you are not a footballer, you can catch the local basketball team, the Ibaraki Robots or get out and play in the many sports facilities in the prefecture.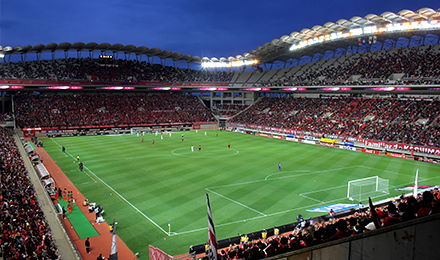 "My life in southern Ibaraki has been one of exploration and fun! Just a stone's throw from Tokyo, it has everything you need while maintaining a balance between city and rural life. So you can live comfortably and still have fun. It's the best of both worlds!"
- Justin T, Moriya Instructor