Hokkaido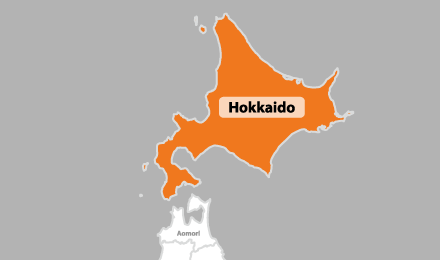 "I love Hokkaido so much that even my family "back home" refer to it as my home. The conveniences of living in a large city combined with the appeal of the great outdoors on its doorstep make Sapporo perfect for me. There are also lots of friendly people, plenty of great food, and so many things to do in all seasons, indoors as well as out. Awesome! I've lived in Hakodate and Asahikawa also, and enjoyed life in both those cities as well."
- Vaughan, Instructor Manager
Well known among Japanese people and increasingly overseas for its beautiful expanses of forest, ranges of mountains and rural areas, Hokkaido is popular with hikers and climbers in summer and autumn, and is world famous for its ski fields, especially those around Niseko. It's a paradise for lovers of the outdoors. Rafting, camping, horse-riding, canoeing, as well as river and sea kayaking are also popular.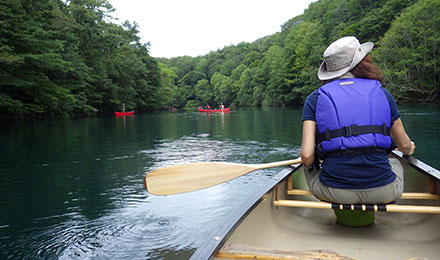 "Hokkaido is full of wonderful natural forests and woodlands. Hiking and backpacking are a must around the beautiful Lake Shikotsu, with public transport and cycle routes making it easy to get to. Also, the various parks, gardens and green spaces around Sapporo are a sight to see! A great escape from the hustle and bustle of city life."
– James, Chitose instructor
"You can't beat the weather in Hokkaido. Tons of snow in winter for great skiing. Warm and sunny summers for hiking and camping."
– Alex, Sapporo instructor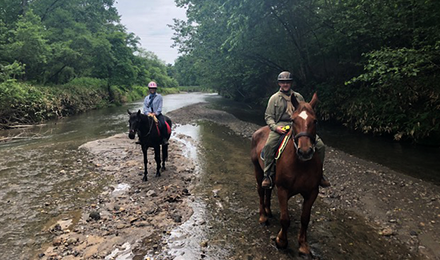 Hokkaido is well known for the freshness of its produce and especially its seafood. The Sashimi is amazing here. The Susukino area in Sapporo alone has over 3,500 restaurants. Soup curry is one local specialty and Ramen salad is another. Izakaya-style bars are there in abundance, and why not try some Karaoke afterwards?
Some of Japan's major breweries are based in Sapporo and near Chitose. As well as tours and tastings, you can go there for some Jingiskan, a local take on a Mongolian lamb dish
Hakodate's Asaichi morning market serves up the freshest seafood imaginable, just 2 minutes' walk from the port. Go there for an early breakfast and see the day's catch coming in.
Yaki-tori restaurants in Hokkaido serve up more than just chicken unlike those in other parts of Japan. You can get all kinds of grilled meat and vegetables on skewers; just the sort of place to go with a few friends to catch up.
"If you're into good food, Hokkaido has the best sushi in Japan. Try the local dishes such as soup curry and miso ramen too. You won't be disappointed!"
– Alex, Sapporo instructor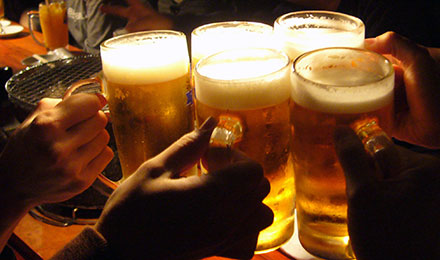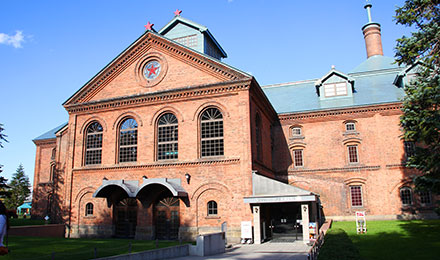 Sapporo Brewery
With winter bringing some of the best snow conditions you could ever experience, skiing, and snowboarding are particularly popular. Niseko is a virtual mecca for snow sports. Snow-shoeing and cross-country skiing can also be enjoyed in some of Japan's largest national parks. Rather stay indoors? Indoor soccer is popular, and a number of 24-hour gyms are popping up all over Sapporo.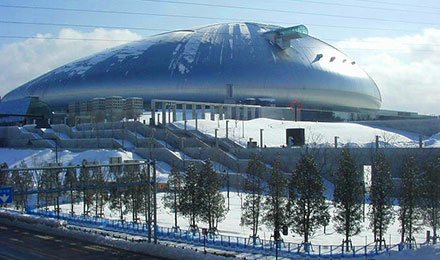 If fishing is your thing, the coasts and rivers provide plenty of variety. Want to try something a bit different? Why not try your hand at Wakasagi ice fishing, and then fry your catch up as tempura?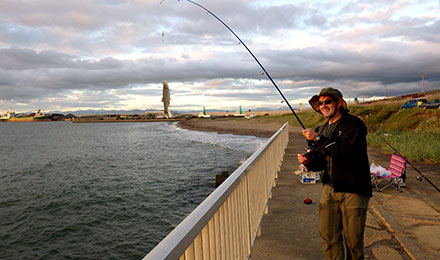 "It's always difficult at first, starting a new job but it's rewarding seeing students improving week-by-week and month-by-month, and that's why we do it. After 5 years I can also see that we improve as well, becoming more flexible, using new approaches to teaching, for example thinking "What can I do differently to help people understand the language?"
– Tom, Sapporo instructor
In the warmer months, cycling is a popular way of taking in Hokkaido's beautiful landscapes.
As with other parts of the country, Japanese martial arts such as Aikido, Judo, Karate and Kyudo (Japanese archery) are taught at public gyms and are an interesting way to experience Japanese culture. Imagine getting your black-belt in Japan!
"In summer we have great festivals and it never gets too hot or humid. In winter we have amazing powder snow, it's great if you love winter sports."
– James, Asahikawa instructor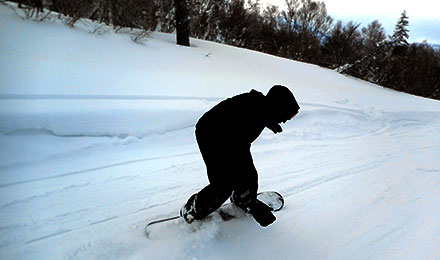 Hot springs are abundant in Hokkaido. They're equally as refreshing after hiking back down a mountain in autumn as they are after a day skiing or snowboarding in winter, and many of them are located right there at the base of the mountain. That's not to say you won't find a hot spring just down the road from your apartment.
Take a stroll or relax by one of Hokkaido's picturesque lakes, such as Lake Shikotsu, Lake Toya, Lake Shikaribetsu or Lake Mashu. In Sapporo take a walk or leisurely bike-ride along the Toyohira River or along one of the many cycling paths which wind through the city from one end to the other, take you up towards Lake Shikotsu, out towards the sea, or all the way to Kita-Hiroshima City.
"Hakodate is home to Goryukaku Park, one of the most beautiful places in Hokkaido to view cherry blossoms in the spring. It also has the famous Yunokawa hot springs, so you can relax all year round!".
– Roz, Hakodate instructor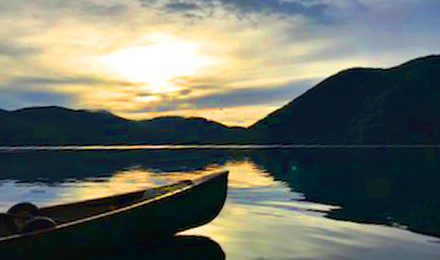 The indigenous Ainu culture is captured in many of the place names throughout Hokkaido, such as the Toyohira River, and the towns of Tamakomai and Wakanai. You can see and experience aspects of how the Ainu people lived prior to Hokkaido becoming part of the Japanese nation at the Ainu Culture Promotion Center, at a dedicated museum in Hakodate, or at the museum in the Hokkaido University Botanical Gardens. Throughout Hokkaido there's a real blend of traditions and customs that people brought from around Japan when they settled here.
"Sapporo is known for its fabulous food, parks, gardens, cultural centers and various year-round events including the beer gardens and winter snow festival. Sapporo Station is a one-stop mecca for foodies and shoppers. Nearby the station is Odori Park – a popular rest-spot filled with flowers and trees, and where the Sapporo TV Tower is. From there you can enjoy amazing panoramic views of the park and city. Most places of interest in Sapporo are within walking distance of public transportation." – Michael, Sapporo instructor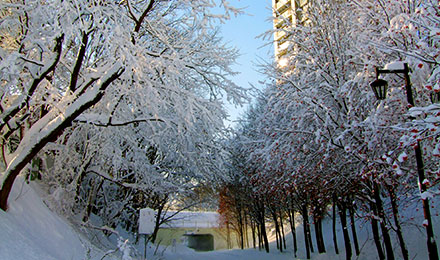 Hokkaido has scenic lakes, mountains and forests in abundance. Take in the colorful fields of the Furano area from a hot air balloon, experience the rolling hills of central Hokkaido on horseback, or see the ice floes of Abashiri from the deck of an ice-breaker ship.
"Asahikawa is the perfect blend of big city life, with small town prices, a friendly village community feeling and surrounded by gorgeous countryside. Asahikawa may be one of the coldest cities in Japan, but the people are not." – James, Asahikawa instructor
"The east area of Hokkaido reveals some spectacular natural phenomenon in Furano and Biei. The natural foliage and rugged landscapes yield amazing outdoor experiences." – Keith, Sapporo instructor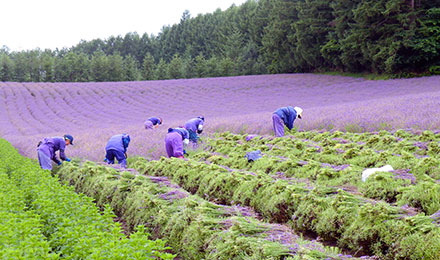 The Snow Festival, which features massive snow sculptures, activities and winter fare, is held in February, and attracts around 2 million visitors annually. The Yosakoi dance festival and competition is held in the streets of Sapporo in early June. Around 30,000 dancers converge on Sapporo from around the country to participate in the event. With the Odori Beer Garden in summer and the Sapporo Autumn Fest there's something going on practically year-round. In Hakodate the Ika (Squid) festival includes a moving dance performance and floats past the scenic and historically important Goryukaku Park.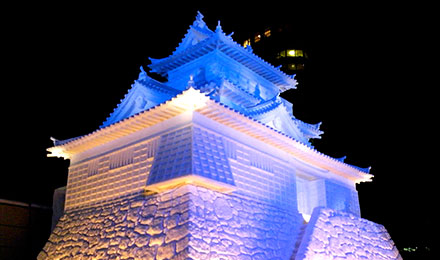 "With airports in Asahikawa, Sapporo, Chitose and Hakodate, getting away for a couple of days to Tokyo, Osaka or Kyoto is not a problem."
– Vaughan, Hokkaido Instructor Manager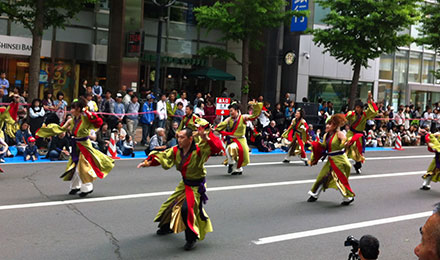 Susukino in Sapporo comes alive as the day draws to a close. Bars, nightclubs, izakayas, karaoke places and restaurants are open all night, in a part of the city that never sleeps.
"Your weekends can be filled with new adventures, bars, clubbing, meeting celebrities, interesting shops, local events, karaoke, and so much more. Come and live your best life in Hokkaido."
– Laurin, Chitose instructor