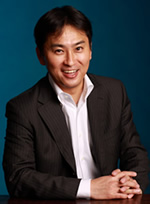 NOVA Holdings is a general holdings company focused on education, with subsidiaries that are each major players in their respective fields: With NOVA, we have the largest number of English conversation schools in Japan; we have the second-largest number of private tutoring schools; and we provide study abroad support through Last Resort.
At NOVA Holdings, our motto is to continually try new things, and we're working hard to grow and to challenge ourselves every day.
Last year, the men's pro basketball team the Hiroshima Dragonflies joined our group, and our goal is to make use of the educational know-how we've accumulated over the years to give back to the community through our management of this club. As always, we aspire to be a company that thinks outside the box and to keep our sights set on the future.
English conversation is of course already important in our globalized society,
and with the Tokyo Olympics approaching, there is now an even greater
awareness of its importance. As such, we hope to provide support through
our wide array of services.
I hope to link all of our previous endeavors to tangible results, to grow and
strengthen our group, and to gain popularity by valuing each and
every person we interact with.